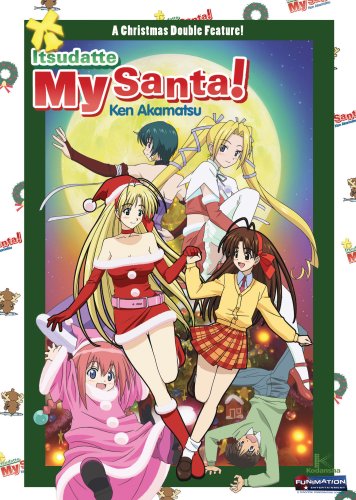 It's become a yearly tradition in my household to sit down during the holidays and watch Itsudatte My Santa. Well, not really, but hey, I got this DVD in the mail, so I might as well review it!
Okay, so I actually already reviewed this anime a while back when it came out on fansubs. You can see my original review here. Basically, it's a heartwarming story about a guy named Santa who discovers the real meaning of Christmas: beach fanservice.
Perhaps it's just nostalgia, but I remembered this anime to be much better than whatever it was I just watched on this DVD. Simply put, there's really no plot to be found, and the story that does exist just floats around pretty aimlessly.
The first episode is sort of okay with Mai and Santa being introduced, and Santa writing off Mai as an insane Christmas maniac. But they try to cram way too much "story" into a single episode. I noticed that the characters pretty much never stop talking. There's definitely some magic of editing done so that the characters don't actually have to breathe to say their next line. At first, the episode is about how Santa is lonely, but then Mai convinces him to join his friends and his senpai whom he has a crush on. But then Santa decides to be with Mai because she's in love with him. Then they go visit his parents in some third-world country. Aimless!
The second episode is basically filler, which is bad since this is just a two-episode OVA! Thankfully, three new characters are introduced, including the awesome MaiMai, whose job is soley to bite Sherry (I'm not digging the romanization of Shally) in the ass and tell her to die. The third episode gag preview seems a lot cooler, and I wished it had really been made. It has scenes of reindeer mecha badness, which could only be described as AWESOME!
Critically thinking, I have no idea why Funimation thought it would be a good idea to release this. Actually, I do. It's only because this anime has the Akamatsu Ken name associated with it. Since Love Hina and Negima are doing/have done pretty well here, I guess it would follow that My Santa would work too.
But the Japanese notion of Christmas and the North American version are so different that upon closer inspection, this anime is a horrible license! To us Americans, Christmas isn't a holiday to pick up chicks and eat fried chicken, but that's how Japanese culture views it. Add to this the fact that Funimation incorrectly rated the thing and you have a recipe for disaster! Oh wait, it says there that they recalled it. Why am I reviewing this again!?
If you're still able to pick this anime up, it might be good as a collector's piece. Besides that, I'd only recommend this to the super hardcore Ken-ken fan. Even Os denies the existence of the second episode…
Thanks to Funimation for sending me a review copy of Itsudatte My Santa!