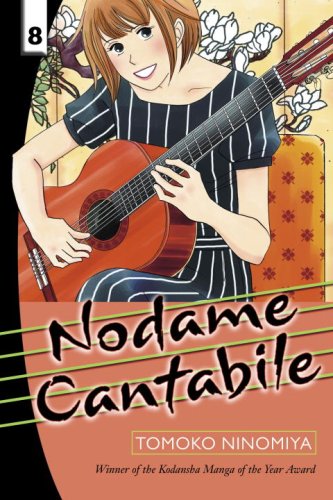 Nodame decides to go mainstream in this cover and plays guitar. Man, Nodame is such a sellout!
So in this volume of Nodame Cantabile, big things happen! For one, the Rising Star Orchestra has its first concert. This, of course, means there's plenty of band nerd (and orchestra nerd) music-porn to go around. But I did notice a few weird things. Silly mangaka, girls don't play trombones!!! Well, okay, some do, but it's sad to say that trombone is a pretty heavily male-dominated instrument. I should try to get back on topic.
Another storyline issue is that Nodame is getting serious about practicing. Along with the Harisen teacher, she's trying to win a piano concerto contest. Her weird looks and excellent playing get her further in the competition than expected! She talked about bribing the judges, but I don't think that actually happened in the end…
Also, Nodame has successfully hypnotized Chiaki into being able to fly. For some reason, Nodame's hypnotherapy has worked where others' have failed. Maybe it's because of Chiaki's feelings for Nodame? You know, special feelings that he has for her and not for a random hypnotist… But this is bad, because now Chiaki can leave Nodame any time he wants! UGYAA~! What the heck is Nodame thinking? I guess she loves him enough to let him go. Or she's just an idiot. Stupid, stupid Nodame!!!
Um, what else happens? At the end of this volume, Nodame is still in the running for the contest, and there's some tension in the RS orchestra! It's a mild cliffhanger, I suppose.
Anyway, the series is actually progressing along now. Chiaki obviously feels something for Nodame, but who knows if he will sacrifice his career for her now that he can travel? Nodame is also getting pretty kick ass as a solo pianist. So character growth is pretty high this volume. I might have to slow down, otherwise I'll hit the end of the US releases and find myself without new Nodame for a while!
Many thanks to Del Rey Manga for sending me a review copy of Nodame Cantabile Volume 8!