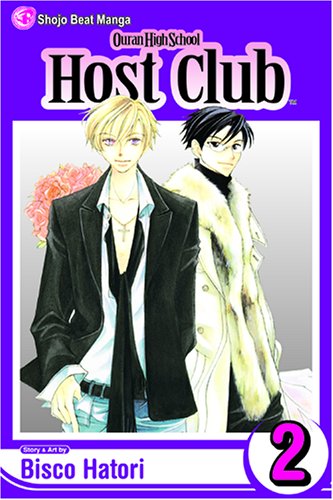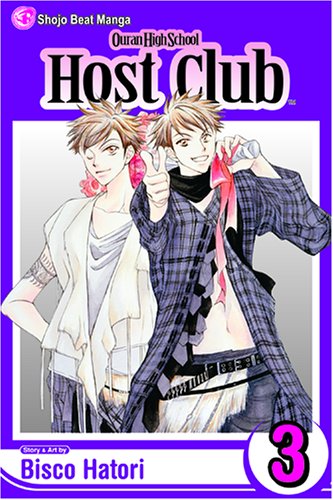 Whoa, two Ouran High School Host Club manga reviews in one!? The key word here is "mini."

I've written on my personal blog about the magical place called the Ann Arbor District Library. But I guess I should reiterate the message here on my anime blog. The AADL is freaking awesome! It's a mega-library that probably rivals many video rental/book stores (think Hastings).
In addition to your normal library books, the AADL also has stuff like music cds, DVDs (including anime), and manga. The selection is really not bad at all. I picked up two volumes of Ouran so far. I haven't picked up any anime yet, but I did notice they have all the Azumanga Daioh DVDs just waiting to be checked out.
Ah, so on to the review. Um… Let's see. Haruhi is still being taken advantage of by the boys of the host club. I'm starting to see differences in the manga and anime versions. It seems like the huge role that Renge had in the anime (I love Renge, BTW) is diminished, and Nekozawa's small role in the anime is enhanced. I'd trade in Nekozawa for Renge any day…
Besides that, the manga follows the anime pretty much word for word. Haruhi is still awesome, Hunny is still cute, the twins are still sort of annoying. We haven't really gotten into anyone's backstory yet, except maybe a bit of the twins. I'm probably mixing up the manga with the anime versions anyway.
I think the art is getting better as the manga progresses. Like before Haruhi wasn't really that cute (she's always cute in the anime). But now you can get this sense of cuteness, even when she's making a disturbed face. Actually, I think that's when she's cutest (and also when she's in civilian clothes).
And um… that's about it. Mainly I wanted to jot down my thoughts and add a plug for the awesome library I'm checking manga out from!