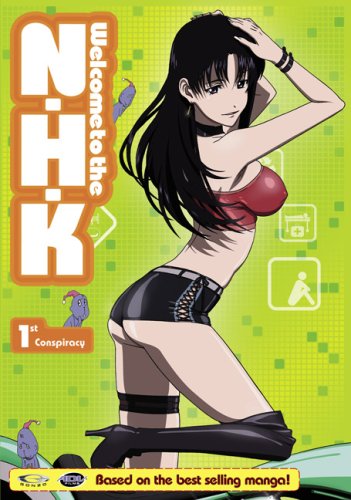 My friend saw the cover of the Welcome to the NHK Volume 1 DVD and immediately thought it was anime porn. I don't blame him either; the cover totally has nothing to do with the actual content of the DVD! Not that I'm complaining or anything…
Story:
Hikikomori Satou thinks the NHK is behind some massive conspiracy to make Japan into a bunch of hikikomori. Cute girl named Misaki tries to save him (and has ulterior motives?). Old pal Yamazaki tries to get Satou to make an h-game with him. Insanity ensues.
Analysis:
Welcome to the NHK is dark comedy about the hikikomori problem in Japan. Satou is stuck in his house because he's afraid of the Japanese society outside. His "friends" try to help, but seem to end up hurting him even more, like when Yamazaki lends him some H-games and Satou goes on a playing spree. After which he upgrades to real life loli porn. And taking pictures of middle school girls. I said "dark comedy," right?
NHK is sort of strange, because the very people who can understand the lingo and all the jokes are probably the same people being having fun poked at them in the anime itself. I guess you don't have to be a severe hikikomori to get all the jokes, but you've got to have some kind of obsession with Japan, especially considering this is a North American release of a Japanese anime.
Being pretty familiar with all the concepts in the anime, I thought it was pretty funny. But I can imagine your average (or non) anime watcher might not find it funny that Satou's downloading massive amounts of porn and taking candid shots of middle school girls.
The DVD:
Like I said before, the cover totally makes no sense. I think it's Satou's ex-senpai dressed as a hooker. The DVD itself only has a few extra features like a clean opening and ending, which are actually pretty sweet (I like the OP a lot). There's also a sort of otaku encyclopedia for people who don't know their NEETs from their standard otaku.
I listened to the first episode in English, and the rest in Japanese. The English voice acting isn't too bad, and I like that they threw in a bunch of profanity to keep things interesting. This is apparently a "TV MA" rated DVD. I think they kept a lot of stuff (like nipples) whited out as in the Japanese tv release so it wouldn't be considered an X-rated anime dvd or anything. I betcha they put the nipples in for the Japanese release, though.
Conclusion:
Welcome to the NHK is a weird offering. It's about a dude who, in real life, would pretty much be the scummiest guy alive. The things he does are repulsive, and yet this is completely a comedy (I guess satire would be a good fit, too). You might find Satou's antics to be totally unamusing, but I think he's funny. In that "I totally wouldn't do that" sort of way.
Many thanks to ADV Films for sending me a review copy of Welcome to the NHK Volume 1!