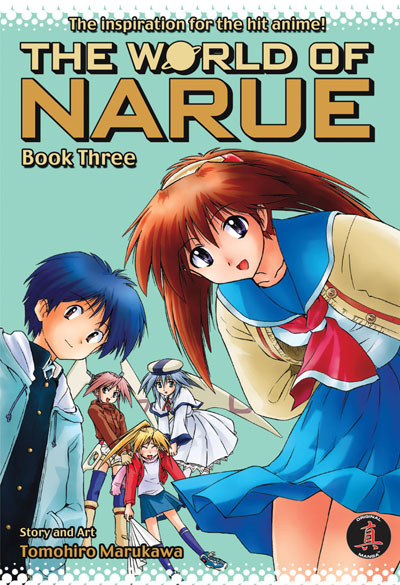 The fluffy adventures of Narue and Kazuto continue in The World of Narue Volume 3. Plus: three-somes!
Story:
Things start out nicely with a Hajime X Maruo story. Is Hajime an Iincho? Because she sure acts like one. Then there's the requisite transporter human duplication accident chapter (a must for any sci-fi series), the look into Bathyscape's past chapter, the random mouse stealing stuff chapter, the ghost chapter, etc.
Basically, this entire volume is a compendium of filler.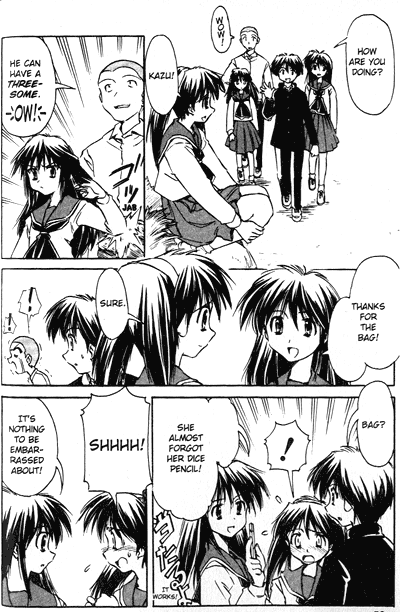 I like the way Maruo thinks!
Analysis:
I'd probably be against all of the filler if they were anything like Naruto fillers. You know, fart and poop jokes? But at the very least, the characters develop somewhat. It's not a whole lot, but just enough so that you feel like time is actually moving forward a bit.
I'm not even sure that there's an underlying plot in The World of Narue. It seems like the plot IS for the two to have random adventures. The fact that Narue is an alien is just sort of icing on the cake that adds some variety to the stories.
Some of the stories do get a bit melodramatic at times, but it's all in good fun. Remember kids, suicide is not the answer. Plus, if you really want to get married to a spaceship, true love can conquer all. As long as that spaceship is anthropomorphic. While I'd like to see more plot progression (if there even is a plot to speak of), I'm still happy just watching the random adventures. These kids are too cute!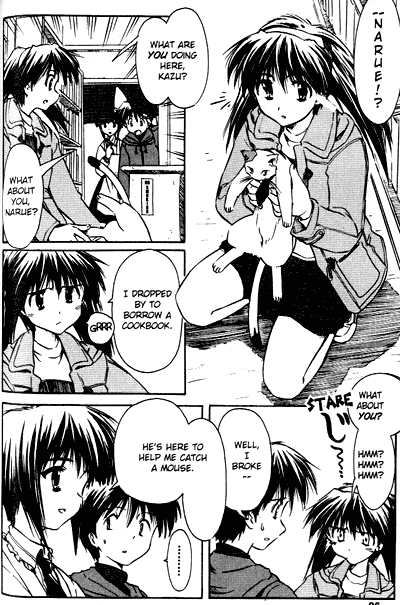 "Catching a mouse" is a euphemism for what, again?
Conclusion:
I really like Narue no Sekai. Oops, I mean, The World of Narue. It's one of the few manga I can read that mellows me out. I think CPM stopped releasing this at a certain volume, so eventually I'll have to use my leet Japanese skills and get the Japanese version. I hope there's furigana…
Many thanks to Central Park Media for sending me a review copy of The World of Narue Volume 3!