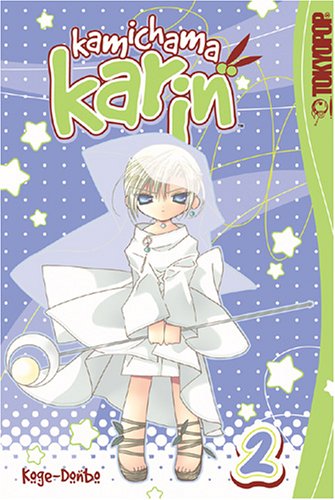 I just got through the Kamichama Karin manga's second volume, and I'm glad to say that it doesn't suffer from the same QC issues as the anime version. I think.
Story:
In this volume of Kamichama Karin, Shi comes back as a god, sort of. Also, Karin needs to up her grades or she'll be expelled from the super awesome private school! Plus Karin and Kazune get into a fight with the meganekko and his partner, Kirika. Finally, there's some romantic tension as Himeka tells Karin that there's a guy she likes. Could it be Kazune!?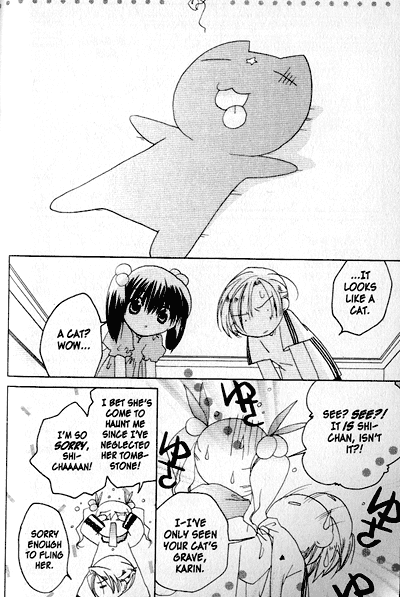 Analysis:
A lot happens in this volume, but it still feels like the manga is going at a snail's pace. It's the end of the second volume and Karin still sucks ass at being a goddess! It's also pretty apparent that Karin is mentally retarded. She can't figure out that Kirika is the bad guy trap, and she can't tell that Himeka likes Kazune. Okay, so those are just my guesses, but hey, they seem plausible.
There also seem to be some crazy plot holes. Like how in the first volume, Karin used her goddess powers to ace her tests. Why didn't she just use them again instead of studying? Maybe it'll be revealed later, but if she has goddess powers, she should use them!
It's kind of hard to figure out what the "genre" of this manga is. Is Kamichama Karin a comedy? Drama? Romance? I guess it's okay to mix and match, but there seem to be a ton of mixed messages. Like the random SD makes me think the manga should be less serious than it is at times.
Finally, there needs to be more Himeka. She's freaking cute. Give her a spinoff or something and I'll buy every volume of Himeka-chan no Bouken.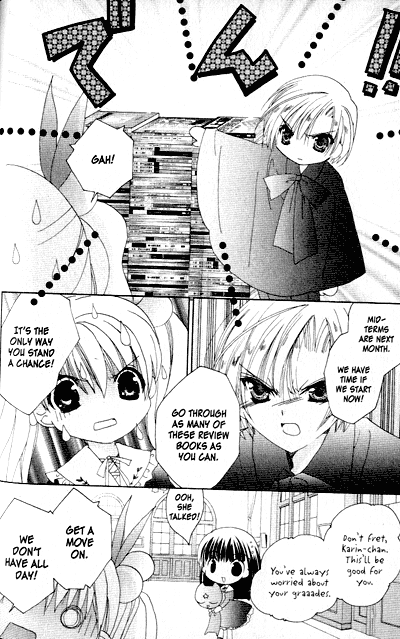 Conclusion:
This volume ended up feeling a bit unfocused. Like there was too much happening at once, or too many plot points introduced. Add to that the fact that Karin is still totally weak, and I think that this series is starting to get boring.
I want to read the next volume of Kamichama Karin, but only because I want to see what Himeka-chan does next. Plus she's on the cover. Cute! I think that and the fact that this is Koge Donbo keeps me reading this manga (something good is bound to happen, right?).
Many thanks to Tokyopop for sending me a review copy of Kamichama Karin Volume 2!