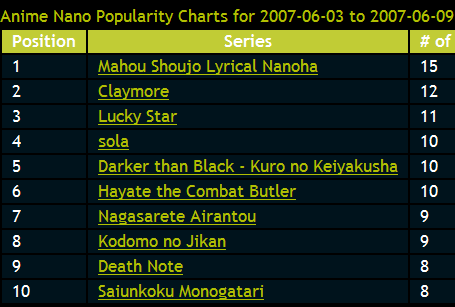 Anime Nano, my anime blog aggregator community thing, turned 1 year old this month! I was going to write a post about it, but I wanted to wait until I got a new feature finished. It's been a while since I added anything to Anime Nano.
There's already a popularity cloud thing in the footer of Anime Nano, but I wanted to make something that had more potential for discussion. Since people like charts, I figured I'd introduce some kind of weekly top ten chart that ranks the popularity of anime based on how many blog posts are written during the past week. Hence the name, Anime Nano Popularity Charts!
The charts auto-update every Sunday and make a top ten list showing the most popular anime. Only the blog posts that are "tagged" with a series count. Though it's only polling a subset of the anime blogging community (the blogs that are in Anime Nano) I still think it's a pretty fair representation of which anime are popular.
In one week, the charts will update, though you'll still be able to go back and see the previous charts, too. Let me know what you think!