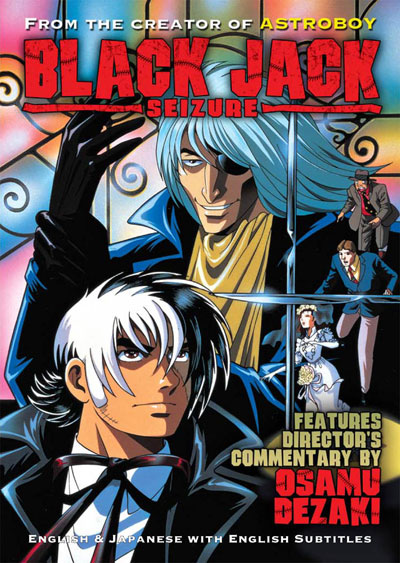 Black Jack is back in "Seizure," this time with about 100% more nipples! Seriously! We're also introduced to Black Jack's rival, White Jill. I kid, I kid.
Story:
This DVD contains two episodes that are completely independent of each other. Besides the fact that Black Jack is starring in them, of course. The first one involves Black Jack prolonging the life of a cancer-stricken revolutionary! The second has Black Jack trying to cure a young actress of anorexia. Sounds… exciting…
Analysis:
The first episode (ep 3) doesn't really have anything remarkable in it. I guess the situation is more interesting than the patient's condition. We know from the beginning the patient is going to die of terminal cancer. So instead of Black Jack trying to solve a mystery, we see him running away from the "United States" special forces a lot. And getting hit on my the patient's daughter.
The next episode actually has Black Jack doing some detective work. Black Jack's rival, another underworld doctor, is introduced. Instead of saving people, Dr. Kiriko euthanizes them. Makes sense for them to be rivals. Though to me, it seems like it'd be hella easier to have Kiriko's job. Kiriko actually helps Black Jack figure out the cure to the anorexic chick. So he's not so bad after all. Besides the killing people.
As I mentioned before, there was a lot of nudity in this DVD. Or at least, a ton more than the first one. It makes sense in the context of a medical anime, though. Sort of. Don't worry, it's only female frontal nudity. No male wangs here.
The Actual DVD:
The DVD doesn't have too many extras to speak of. The coolest one is the director's commentary for episode 3. Then there's some random art galleries and previews/trailers. But yeah, the director's commentary is really nice if you're into that kind of thing.
Conclusion:
I thought this volume of Black Jack was a bit weaker than the first one, just because the stories weren't as interesting. The first one was just about a guy with cancer, and the second one was anorexia? Can't we have exploding brains and stuff? Towards the end, the second one got better.
Many thanks to Central Park Media for sending me a review copy of Black Jack: Seizure.