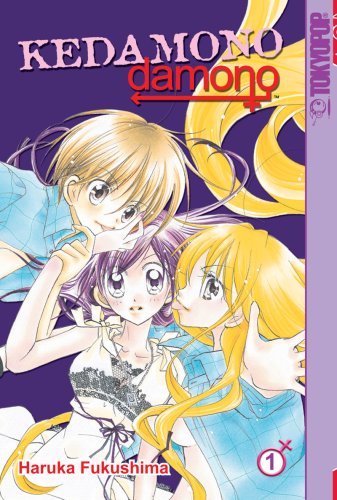 Here's a zen question: When is a trap not a trap? Perhaps when the trap switches their sex magically by night? Such is the case in Kedamono Damono, a yuri manga that I just recently came across.
Book Blurb:
From the author of Instant Teen! comes a wacky romance between a girl and a guy–who turns into a girl at night. Konatsu is the manager of the boys' basketball team, and has a crush on her senpai, who oversees the team and is a real jerk. As Konatsu confides in Haruki, their relationship begins to grow closer. The only problem: Haruki is a boy by day, and a real pervy girl by night!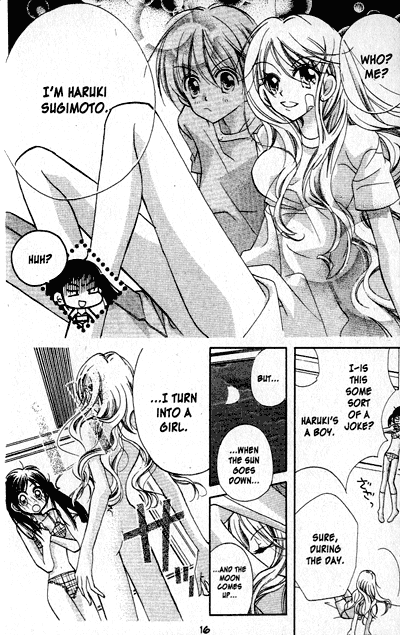 Analysis:
What we have here is a love story between a girl and a guy who sometimes changes into a girl… Kedamono Damono is sort of similar to Kashimashi in that one of the characters switches from a male to female. The difference is that Haruki switches to a female only at night, and reverts back to being a guy during the day. We don't know if it's because of magic, a disease, or just something that runs in the family… At least Kashimashi had a reason, albeit a silly one.
Haruki as a boy is fairly normal, but when he/she switches to being a girl, she totally needs yuri action. I think I'd be the same way, honestly. Strangely, Konatsu doesn't really mind either version of Haruki. She just sorta plays along with the weirdness; her love for Konatsu doesn't change just because he's a guy or a girl.
I compared this manga to Kashimashi, but besides that one comparison, they're really not alike at all. While Kashimashi emphasizes the emotions and feelings of the characters, Kedamono Damono just tries to be as perverted as possible. It almost seems like the story was originally for an adult hentai manga, but then they decided to tone it down.
The result is a manga that doesn't seem to have much in the story department. A lot of the chapters are your standard manga staples. Like the Christmas eve episode where one of the characters has to work a part time job to buy the other a present, and the other one misses the character that's working… Does this have to happen in every manga/anime ever!? Kedamono Damono has no substance; the plot is just sort of a way to include ecchi stuff.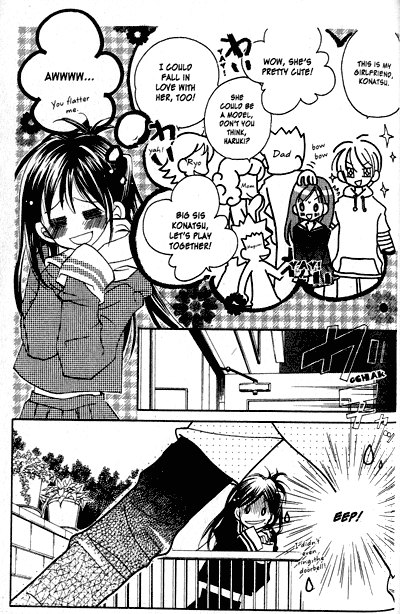 Character Designs and Art:
Konatsu is really super cute. Konatsu's rival, Miya, is also super cute. I really like their designs. The rest of the characters are pretty generic, including Haruki as a guy and a girl. The author mentioned in the notes that this is her eighth manga so far, and it shows in the art. The quality is really good, though there are a few scenes that are totally confusing to look at. I don't have any problems at all when it comes to the art.
The Actual Book
In addition to the story, there's a lot of extra stuff that the author, Fukushima Haruka, decided to include. Like random omake about the origins of the manga and fortune telling. It's kind of sad how mass produced manga are these days. I hate to think that manga are produced by committee in the way it was described in the extras… It makes perfect sense, too, given how manufactured the plot and story of this manga in particular reads.
Conclusion:
Kedamono Damono is a mixed bag. The art is great, but there's no storyline to keep things interesting between the ecchi scenes. There's a hint of a plot, but I seriously doubt the next volume will be anything but more of the same. That could be good or bad, depending on your own tastes.
The etymology of yaoi has been linked to this phrase, "yama nashi, ochi nashi, imi nashi" which means "no climax, no punch line, no meaning." I think in this case, the same could be applied directly to Kedamono Damono, despite it being Yuri…
Many thanks to Tokyopop for sending me a review copy of Kedamono Damono Volume 1!