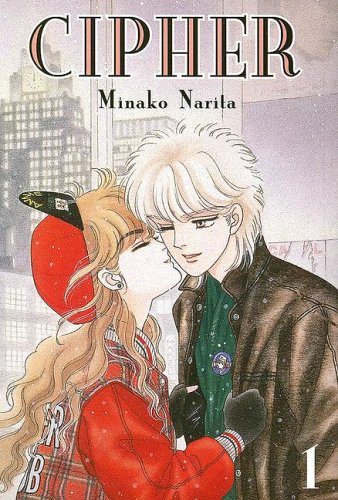 Typically, a cipher is a way to encrypt information for security purposes. My favorite is the Caesar Cipher, since it's so easy to break. But in the context of manga, Cipher is actually this dude who gets yaoi with his twin brother… I prefer the former…
Book Blurb:
Anise can't believe her luck when she finds herself in the same high school as famous former child star Siva. Although the cool and handsome Siva seems unapproachable, Anise manages to become his friend. But her happiness turns to surprise when she discovers Siva's secret: for years, he's been switching identities with his twin brother, Cipher!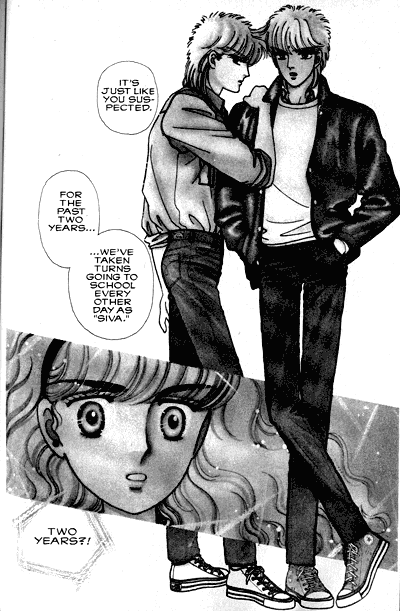 Analysis:
So Cipher tells the story of friend-happy anise and the twin brothers Cipher and Siva. Anise tries to figure out why the two brothers switch places everyday at school. I'd just assume it's because they're lazy! In the process, Anise finds herself living with the brothers and agreeing to a bet: If she can tell the two apart after two weeks, they'll tell her why they switch places.
As far as the plot goes, it's pretty ridiculous. But then again, it's manga, so the plots are usually insane anyway. At the end of the volume, Anise still hasn't figured out what makes the two tick, but she has gotten to know their personalities a lot better. It's sort of an interesting story about what it is that makes people unique. AKA a good shoujo plot.
I was checking out the publication date of this manga: 1985! This manga is almost as old as I am! Apparently it ended in 1990, too. So what we get in addition to the plot is a fun view of what Japanese people thought New York was like in 1985! There's some really fun references to stuff like Hall and Oates, Michael Jackson, MTV and Gremlins!
Now, there was some weirdness going on between the brothers that sorta bugged me. Mainly their habit of kissing each other on the lips goodnight. What!? So yeah, they're like twincest yaoi brothers. Ewww.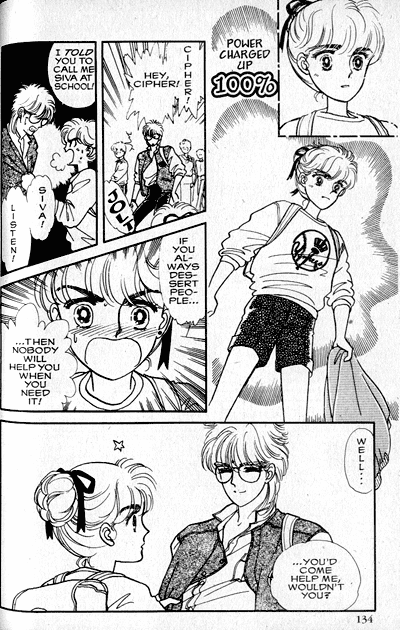 Character Design and Art:
Being an older manga, Cipher really shows its age in the character designs. The characters are all drawn in that 80s shoujo style with sparkly eyes and super eyelashes! Not that there's anything wrong with that. The characters all dress in radical 80s style, too. It's kinda fun reading just to see what they'll wear.
I found the manga to be really easy to read. The panels flowed simply, in contrast to some of the more current manga that have some really wild panel flow.
The Actual Book:
I think my only real complaint with Cipher has to do with the rendering of text. In some places, text is presented vertically. This makes text hard to read as it is, but then the text is still read from right to left. I'm used to reading manga in Japanese sometimes, so I read left to right when the text is vertical. So I kept reading words in backwards order. It was really annoying.
Conclusion:
Cipher is a pretty enjoyable shoujo story on its own. Add in the cheesy 80s style and the manga is even more fun to read. The plot isn't the strongest, but it's still somewhat interesting. If only they'd tone down the twincest themes… Overall, Cipher is a fairly solid average/good manga.
Many thanks to CMX Manga for sending me a review copy of Cipher Volume 1!