So one good thing (or bad thing, depending on your opinion) about the Nodame Cantabile anime is that they skip a lot of stuff from the manga. So you can watch the anime, then read the manga and still get new content! New filler content!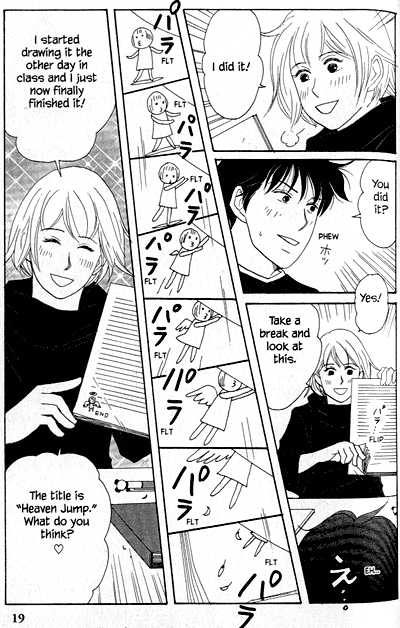 Story:
In this volume of Nodame Cantabile, Chiaki gets to first guest conduct the S orchestra, then gains total conducting power later. All because of the ero-conductor, Stresemann. Chiaki's iron fist begins to bring down the morale of the S orchestra until he discovers the true meaning of Christmas! I mean… music.
This, of course, involves wacky situations like getting the really small poor contrabass player's dad to sell his Stradivarius violins so his daughter can continue going to school. And fake manga within manga.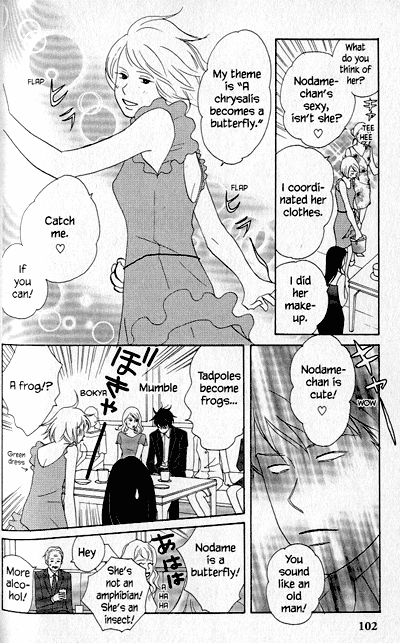 oh god Nodame is hot
Analysis:
I think the characters are really starting to gel now. I mentioned earlier that the anime skips some stuff in the manga. In this case, it's another filler, but a good one! What I would pay to see Nodame's "Heaven Jump" animated in color…
Strangely, Masumi is absent for a lot of this volume. It's like when there's episodes of TV shows where one of the family members is totally missing, even during the family vacation! That's okay, because I think he's only funny in doses anyway.
On the plus side, Chiaki is starting to recognize the awesomeness that is Nodame. At least, he'll say it under his breath and then call her a tadpole/frog. We're making progress!
This volume once again reaffirmed the fact that I'm in love with Nodame. Because of her weirdness, weird sounds ("Gyabon," "Ugii," etc.), and um, weirdness?
Conclusion:
I checked the number of volumes there are of Nodame Cantabile. I think they're up to 17 or something in Japan. Crazy! I guess it'll be a while before Nodame and Chiaki finally hook up, but it's still a lot of fun watching their weird adventures in the meantime.
Many thanks to Del Rey Manga for sending me a review copy of Nodame Cantabile Volume 3!