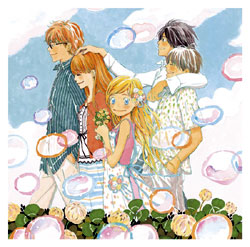 So I got this press release from Viz Media. It looks like they licensed Honey and Clover, unless I'm reading the release incorrectly:
HONEY AND CLOVER – 26 episodes x 30 minutes

HONEY AND CLOVER, is a funny and sad story where unrequited love finds its beginning in two love triangles…

College life is a good time, full of energy, promise and friendship. Sure, students are poor and live in old, small apartments, but they're in college – a time when happiness is based on all the little things in life. But add love to the equation, and things start getting quite complicated! Roommates Yuta and Shinobu are in love with Hagumi, a cute transfer student, yet none of them have any clue as to the others' feelings. And Ayumi's in love with Takumi who's in love with Rika who's still in love with her late husband. With so much love to go around, why is everyone still single?

HONEY AND CLOVER began as a manga in 2000, generating a buzz that started with bookstore clerks and expanded to eager online chatter. Attracting an audience of teens, HONEY AND CLOVER expanded into anime, music, laughter and fashion.
This is pretty awesome news since Honey and Clover is one of my favorite anime.