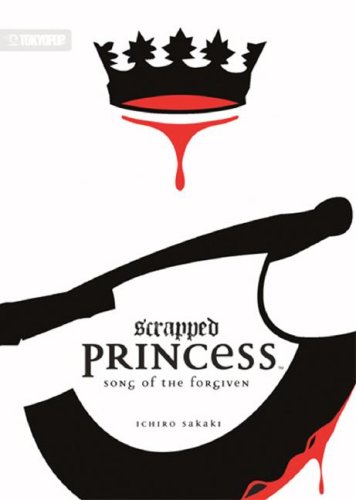 I seriously believe that 2007 will be the year of the light novels. You know, those books with occasional illustrations that a lot of manga and anime are based on? I took a look at the Scrapped Princess light novel, Song of the Forgiven. I didn't actually realize it was the second book in the series until starting this review!
The Publisher Says:
Shannon and his siblings are squabbling as they continue on their travels. When they reach a frontier town, they don't realize that an assassin has followed them in – and as a result, the inn is reduced to rubble! They'll have to pay the money to fix it, but with no job, the three of them take up making mascot and maid costumes. But their lives don't remain peaceful for long…
Analysis:
I was really surprised when I found out I had read the second book of the Scrapped Princess series first. I thought they were just using the storytelling strategy of starting in the middle… It did take me a while to figure out the characters, probably because I hadn't read the first book yet.
The story is a mix of a lot of genres. There's humor, drama, and action. I'd say there's a good mix. Rather than starting with action (which would've been cool), it starts with some character building and comedy by way of a bread shop mascot battle. And crossdressing!
Before you know it, the two siblings Shannon and Raquel are fighting assassin after assassin. There's also a lot of drama when Pacifica contemplates suicide in order to end her siblings' troubles. The story goes back to action with a climactic end as the heroes attack a giant blob that's literally eating the townsfolk they've made friends with.
I wonder if the story would have been easier for me to read if I had read the first book prior to this. I found that the first few chapters were a little difficult to get through. The second half of the book went by fast, though.
Conclusion:
Hopefully I'll be able to read the first book so I can catch something I might've missed. Overall though, I thought that book 2, especially the end part, was some good readin'.
Thanks to Tokyopop for supplying me a review copy of Scrapped Princess: Song of the Forgiven.