Sorry for my insane lateness on this, but it's really too awesome for me not to blog. In December, I picked up Phoenix Wright for the Nintendo DS. Before that, I had watched all of Suzumiya Haruhi no Yuutsu (yes, I still call it that). I was loitering around in the Cheapass Gamer forums today when I saw the forum signature of Admiral Ackbar: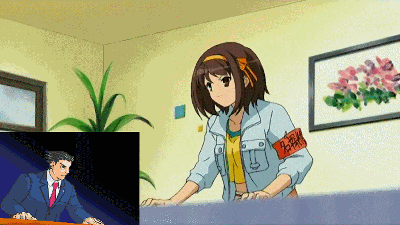 At first I thought it was some clever hoax, but apparently the anime really did a parody/homage of Gyakuten Saiban! Itsuki also does some of the other actions like the bow that the other lawyer dude does.
There's even a youtube video of the scene with Phoenix Wright scenes added! Awesome!
I really need to start playing this again.