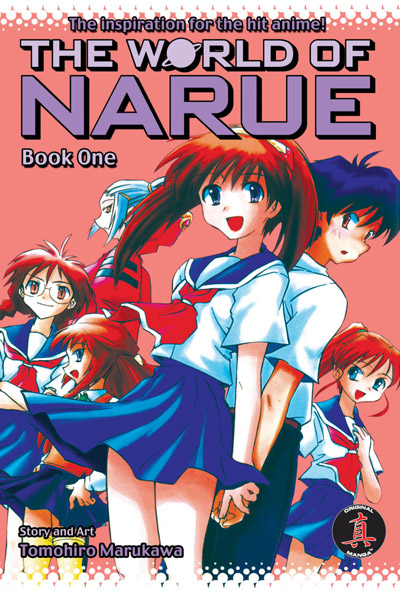 I remember watching The World of Narue the anime back when I knew it as "Narue no Sekai." It was pretty awesome, and I remember that the OP by CooRie was tight. I just got a chance to check out the manga that was published by CPM to go along with the anime. It's a good thing I can't remember much about the anime, or the story might've been spoiled…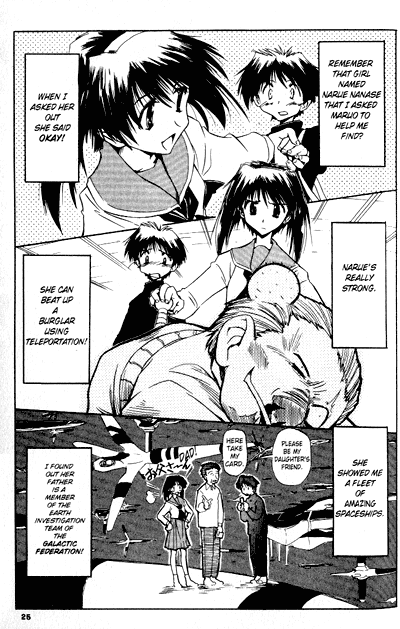 Story:
Izuka Kazuto is your average school kid. Actually, he's probably more like sub-average. One day, while considering adopting an abandoned puppy to impress the ladies, Kazuto meets Nanase Narue. Narue warns Kazuto that the puppy is in fact a dangerous "altered space organism" and proceeds to club it into a mosaic covered pulp!
Instead of calling the police, Kazuto falls for Narue for saving him. I guess he believes her, even though she just clubbed a cute puppy! The next day, with the help of his friend Maruo, he finds out that Narue is a member of the "Galactic Federation."
After school, he returns the murder weapon to her and asks her on a date. Since coffee is expensive, Narue just offers to take Kazuto to her place. A space ninja (awesome!) is there to ambush Narue, but she promptly pwns him. Thus is the beginning of a beautiful relationship…
The rest of this volume of the manga develops the plot nicely with stories about the couple's first date, a romantic rival for Narue and Kazuto, and the arrival of Narue's older younger sister. That's right, leave it to the Japanese to use Einstein's theory of relativity (no pun intended) to make Narue's older sister younger than she is.
Analysis:
While reading the manga, I remembered why I liked the anime version of Narue no Sekai so much. In essence, it's just a simple love story between two kids who aren't really experienced with relationships. They make mistakes, have misunderstandings, and are really cute and innocent about it.
The alien aspect is sort of just there to make the plot a bit more interesting. That, and tons of fanservice. I don't think I recall ever seeing this many panty shots in one volume of manga before!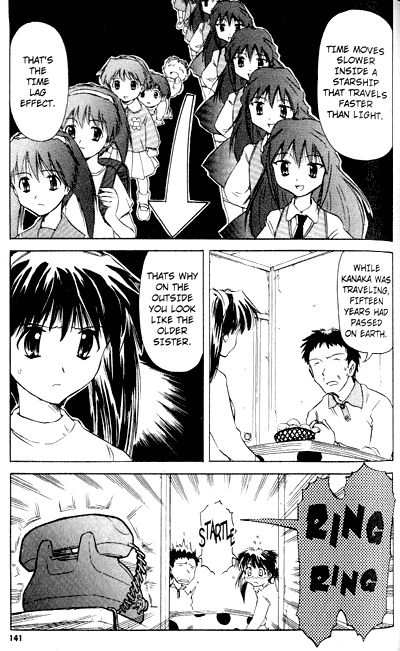 Character Designs and Art:
One of the things I loved about the anime version of Narue no Sekai was the art. While the anime art looks really polished, the manga art leaves a little to be desired. I found that for the first few chapters, the characters were drawn a bit weird. Like Narue's hair was totally out of control for a while, but it got better later on.
I could say the same thing about the art, too. It started out fairly rough but steadily got better as the manga progressed. One thing I did notice regarding consistency: On the front cover, Hajime's hair is brown. On the back cover it's purple… Of course, there's no way to tell what color it is in between, since the manga itself is black and white.
The Actual Book:
This is my first time reading a Central Park Media published manga. It seemed of average quality to me. On closer inspection, the ink looks a little lighter than other manga I have. Not that it affected the way I read it or anything.
Conclusion:
I really liked The World of Narue. I remember enjoying the anime a lot, and the manga has reminded me why. The story is cute, innocent, and relaxing. Plus there's enough fanservice and sci-fi action to keep things interesting. I'd definitely recommend this manga for some light reading.
Many thanks to Central Park Media for providing me with a review copy of The World of Narue Vol. 1. You can learn more about The World of Narue manga and anime at the official website.