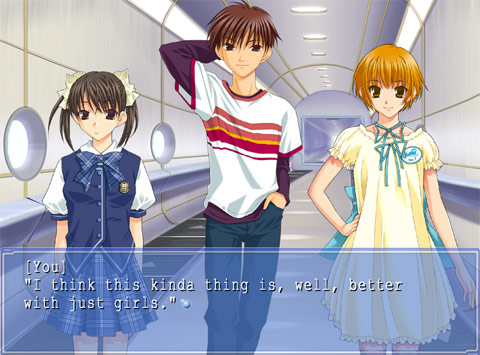 I love out of context quotes!
So as I mentioned briefly in the Anime Nano Podcast Episode #7, I've started to try out some visual novel games. These interactive visual novels are just as legitimate a part of Japanese culture as anime and manga. As such, I figured I should at least experience them a little bit.
When I received the game Ever17 in the mail, I figured I'd be able to get to the end of the game in an hour or so. After an hour, I found that I hadn't gotten much plot at all. After talking to some folks in the Anime Nano IRC channel, I learned that this game in particular lasts about 15 or 20 hours the first time through! I had seriously underestimated these "games."
At this point, I've gotten to the game's "Day 2." Unfortunately, the game doesn't tell you how much real time you've spent playing it. I'd guess that I played for about 3 hours or so before reaching day 2. I'm not too sure how many total days there are in the game.
The game's story up to day 2 has been somewhat generic. There's the protagonist who can't remember who he is, as well the little girl who keeps disappearing. The story is set in an underwater theme park where something goes wrong, and a bunch of people are stranded there. It isn't the most interesting story, but I'm determined to make it through. I heard that the story gets really crazy later on, too.
One of my big complaints is that the game seems to be trying to stretch the story too much. For example, it feels like there's way too much redundant description going on. What could be said in one sentence is stretched out to a paragraph. Then again, maybe that's the point of the visual novel: to create a detailed storyline rather than rush through everything.
The voice acting seems to be very good. I should mention that it's in the original Japanese language. That's fine with me since I always listen to the Japanese voice track if I have a choice. Unfortunately, since I was kind of in a hurry, I skipped a lot of the voices by reading the text and then hitting "next."
One thing that playing this visual novel has already taught me is to appreciate Welcome to the NHK more. There's an episode where Satou plays hentai game after hentai game nonstop. Before I had played any of these games, I figured he was just a little obsessed. Now I know that in order to get every ending, Satou must have played a hella lot!!! BTW, the game I'm playing, Ever17, doesn't have any hentai content in it, so feel free to let your kids play it (maybe not…)!
So after learning that this game actually has the advertised "100+ hours of gameplay," am I a little discouraged? Yes. But I'm really determined to finish! Not only because it'll mean that I level up as a weeaboo, but also because Hirameki International Group was kind enough to send it to me for review purposes. So yeah, I kind of need to finish it. Sorry Mom, it looks like I might need to take another semester of college after all!
For additional info on Ever17, you can visit Hirameki International Group's Official Page. You can also download a free trial from Cnet.com.