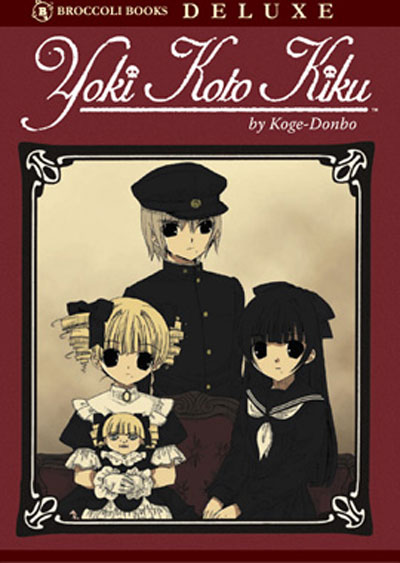 Yoki Koto Kiku is a fairly new manga by the one and only Koge-Donbo. Koge-Donbo's work is usually known for being super saccharine sweet. She did Di Gi Charat and Pita Ten, which are both totally awesome. Yoki Koto Kiku is somewhat of a departure for Koge-Donbo, but only a slight one.
The patriarch of the Nekogami family has just died, so his inheritence is up for grabs. The oldest grandson is fighting in the war, and the other three grandtriplets are at home with his fiance/maid.
Each of the triplets has a dream that needs fulfilling and each of those dreams require lots of money. Koto's dream is to find a cure for his illness, Kiku's dream is to be discovered as a singer, and Yoki's dream is a secret. Unfortunately, only one can have the inheritence.
What follows is a Battle Royale type fight among the siblings and the maid who is to become their older sister. The siblings are discrete, however, and only attack when there's a good opening.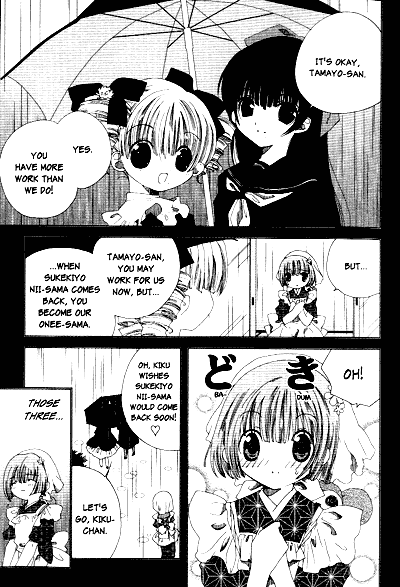 According to the translation notes, the story is actually a parody of an old Japanese mystery called "Inugami-ke no ichizoku." It might be worth checking out if you want to get the whole joke, I guess.
While the setting is dark, Koge-Donbo can't really help but draw cute characters. They look way serious on the cover, but once you flip through a few pages, they get XD and everything. I'm fine with that though. I love cute characters.
The humor (yes, this is a comedy) is mostly based on the macabre stuff juxtaposed by the cute images. For example, at one point Kiku reads the obituary section of the newspaper. We get to see cute little reenactments of "a double suicide of a mother and her daughter," "a suicide pact between lovers," and a "drunk man falling off a cliff." They're all really sad, but at the same time, really cute and funny.
The only complaint I had with the story is that it didn't seem to have enough parts that were really funny. There were a few, but the manga seemed just a bit too inconsistent. It did have a lot of cuteness, which sorta redeems it.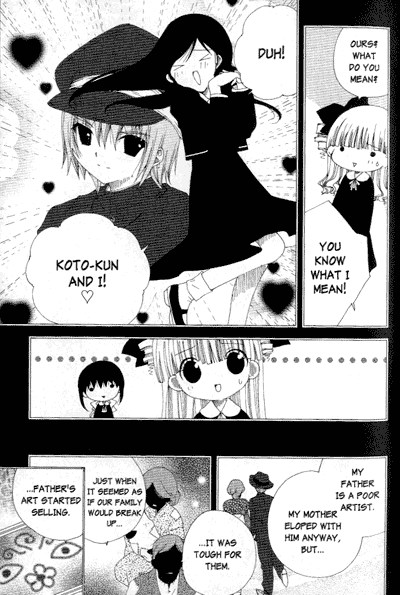 The book itself looks really nice. I guess it should considering that it's part of Broccoli Books' Deluxe line of manga. I'm not exactly sure what the "Deluxe" means, but the manga has a nice matte cover and included a 1 page full-color insert. The print quality looked good throughout the manga too.
Yoki Koto Kiku doesn't have a volume number, so I'm assuming it's a one-shot manga. In the afterword, Koge-Donbo says she'd like to draw the characters again, so don't rule out a sequel completely.
Another interesting thing about this manga is that from July to October 11th, this manga is only being sold at Borders. After that, it'll be released everywhere. If you want it right now, I guess Borders is your only choice.
Overall, Yoki Koto Kiku is a solid one shot manga. It isn't the funniest, but it does have tons of cuteness in Koge-Donbo fashion. I'd say it's definitely worth getting if you're a fan of her other works like Di Gi Charat, Pita Ten and Kamichama Karin, or if you a fan of dark humor.
Many thanks to Broccoli Books for providing me with a review copy of Yoki Koto Kiku. You can get more info on the manga at their official site.