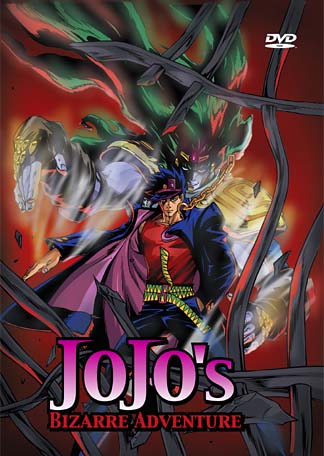 As part of my "review more American Anime Time stuff" campaign, I contacted some companies and asked if they could send me anything to review. Super Techno Arts was kind enough to send a copy of Jojo's Bizarre Adventure Vol. 1.
Coincidentally, back in the Playstation (1) days there was a fighting game called "Jojo's Bizarre Adventure" that I used to have. I don't really remember it that well, but it seemed pretty cool. Apparently the game was based on the same manga that this anime was based on.
Story:
Jotaro Kujo is a school delinquent. Not only that, but he's in jail! He's convinced that some kind of evil spirit is possessing him. Everyone else probably attributes this behavior to good ol' teen angst. Everyone but his grandfather, Joseph, that is!
Jotaro's evil spirit is actually something called a "stand." It's sort of like an invisible powerful creature that lives inside you. The whole reason for the stand powers manifesting inside Jotaro is a century-long feud between his family and a bad guy named "Dio."
Over the course of the next episodes (there's three episodes on this disk), Jotaro whips some assassins' butts, and recruits those assassins into his posse. Seriously, he's building quite a harem gang.
Analysis:
The original manga that this anime was based on was originally published in Shonen Jump. I mention this because Shonen Jump manga have a tendency to be very fight oriented and somewhat cheesy. Jojo's Bizarre Adventure is no exception.
Although the anime is really serious in tone, I couldn't help but laugh at a few scenes that were overly dramatic. I guess it's just the nature of the genre. The scenes with Dio in his super secret lair are especially funny/cheesy.
There's also quite a bit of cheesy dialogue along the lines of "those who win are good, and those who lose are evil; enough talk, let's settle this!" Those of you who are "justice" and "guts" fans will totally be pumped by the dialogue in this anime.
Having said that, I still enjoyed the anime. I don't really watch too much shonen, but it was nice to just let my brain relax for a while and enjoy the fight scenes.
The Actual DVD:
I usually don't review anime on DVD, so this is kind of new for me. I'll just go through the standard dvd review stuff.
The picture quality and animation looked really good. I'm used to watching fansubs, so it was really a treat to see an anime in DVD quality. The original Japanese release date for the DVD was in 2000. The animation still looks good enough to compete with today's releases. I believe this release is an OVA, and not a TV animation.
The DVD sports dual audio with English and Japanese tracks in both stereo and Dolby 5.1 audio. I listened mostly to the Japanese audio, but switched back to the English a few times to check it out. The English dub is actually not too bad. I think the originally cheesy dialogue (which seems to be translated fairly accurately and literally) is to blame. Everything just sounds cheesier in your primary language.
Another thing I noticed about the audio was that the background music was much louder in the English track than the Japanese one. Also, the background music reminds me of Dragonball Z music. That's bad, by the way. It's mostly synthesized guitar riffs. I guess it's appropriate for the genre, but I don't really care too much for the music.
The DVD has a pretty good amount of extras. There's a neat "storyboard mode" which shows the original storyboards live during the first episode. The image gallery extra is nice, but the images are a bit too low res for my tastes. More useful is the "Jojo History Timeline," which explains the backstory of Jojo's Bizarre Adventure. The DVD actually starts off in the 3rd "generation" of the story. There's also a "Production Interview" and a trailer for the next volume to get you pumped.
Conclusion:
While it won't win any prizes for the story, Jojo's Bizarre Adventure looks good, and provides quite a few laughs (perhaps unintentionally) in the process. I wouldn't call it a must-buy unless you're a total fan of the manga or the shonen type of anime. I'd probably say it's worth a rental at least, since I really did enjoy watching it.
Many thanks to Mark Giambruno at Super Techno Arts for providing me with the review copy. Apparently, STA has already released the entire series on 6 volumes of DVDs. You can get them directly at Super Techno Arts' Ebay Store or Amazon.com.