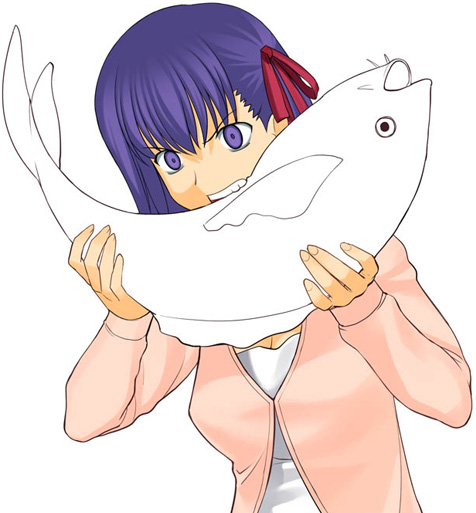 Sakura supplements her raw anime with raw fish…
For a while now, I've been stuck watching anime via english fansubs. Sometimes the subs come out super fast. Other times, anime series will be stalled/dropped, and I never get to know what happened to Bo-bobo once he had to start his fight with the ice cream head guy!
The thing is, this shouldn't be the case. I have Japanese 101-302 under my belt! But then again, I was kind of a slacker, and the Japanese program at my university was kind of crap. But no excuses! I've decided it's time for me to catch up anyway!
These past few days I've been watching my normal 3 anime a day with 1 raw episode. So far, I've watched Kamisama Kazoku 5-6, the first episode of Honey and Clover II, and Binbou Shimai Monogatari 1.
For the most part, I've understood a lot of what happened in Kamisama Kazoku. There were a few plot points that I missed (that I figured out reading Matthew's Anime Blog and Random Curiosity), but they weren't too big of a deal.
Honey and Clover II was actually really hard to understand. Luckily I had seen the first season of the anime, so I knew what was going on anyway. I think I'll wait until I'm better at Japanese to watch this raw. I'm sure a billion groups will sub this anime anyway.
Binbou Shimai Monogatari was easy to understand. I'd say that I understood at least 90% of the conversation. The stuff that ghost mom said was kind of hard to figure out, though. I could probably watch the rest of this anime raw.
I've noticed that while watching anime raw, I can focus more on the actual art and voicework. This is a nice bonus! The bad part is when the characters talk too fast and I have to rewind like, a million times to hear what was said (it reminds me of my Japanese class audio cd work…).
I'd like to see fansub groups provide more stuff to help people use anime as a way to learn Japanese. Wouldn't it be cool to have both the English and Japanese scripts available? I dunno if they offer these on commercial anime DVD releases, but that would be cool, too.
I think just watching those few anime I listed raw has already helped my Japanese listening comprehension. I think I'll keep at it. This probably means I'll be watching a lot more kiddie anime, since the more adult lingo goes way over my head! Anyone have suggestions for a good anime to watch raw?