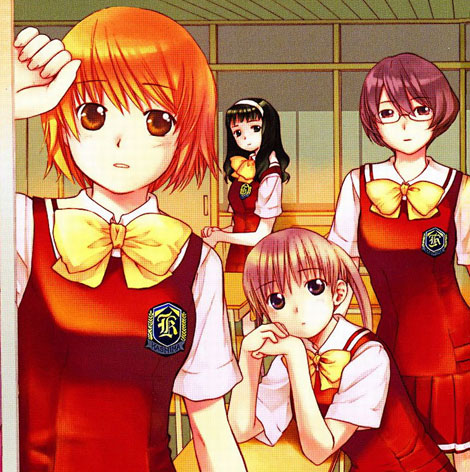 While watching Kashimashi, I noticed that the ED song kept changing. At the time, I thought "wow, this song is really good, plus they have a billion versions of it!" It turns out that episodes 8-11 of the anime all have different seiyuu singing it! The different characters all have unique lyrics so the song fits their character too. Are you thinking what I'm thinking? Yep, it's time for a Seiyuu Showdown: Karaoke Battle!

Masumi Asano
Masumi Asano is the voice actress for Ayuki. She gets to sing first on the ED for episode 8 of the anime. I dunno if she's trying to sing it like the character would, or if that's how she would sing it in real life. Either way, her voice is kinda weak, and she really struggles in some spots. Still, she puts a lot of feeling into it, so I'll give her points for that.
Listen to Michishirube – Ayuki Version.
Kana Ueda
Next up is Kana Ueda on the ED for episode 9 of the anime. She's the seiyuu for Hazumu. Her version is kinda bland. She doesn't sound bad, but put some emotion into it, girl! She does get some cool acoustic guitar at the beginning, but I'd still say this version is average in comparison to the others.
Listen to Michishirube – Hazumu Version.
Yui Horie
On the episode 10 ED is everyone's favorite, Yui Horie! She does the voice of resident emo, Yasuna. Her version is cuter than the Ayuki and Hazumu versions. The background music also gets updated kind of annoyingly. There also some weird audio effects that I don't approve of. I do like the use of the acoustic guitar, though. Plus it's Yui Horie! I'd say this one is average, too.
Listen to Michishirube – Yasuna Version.
Yukari Tamura
Last, but not least, is the Tomari version of Michishirube. Her version gets even more remixing. Weirdly enough, Tomari is supposed to be a tomboy, but her version sounds the cutest. I think I like this version the most (besides the original one). I like how she holds out "truth" longer when she sings "looking for the truth." Plus, she doesn't pronounce it like "truce!"
Listen to Michishirube – Tomari Version.
Also, here's the original version for comparison. I actually don't like how she cuts off notes, but she's still the best singer:
Listen to Michishirube – Yuumao.
I think Tomari wins it, though Ayuki's is more raw (which is good), and Yasuna's is not bad either. Oh noes, I can't choose, just like Hazumu in the anime!