A while back I had seen a bunch of photos from some enterprising otaku who had found the town used in Onegai Twins, and took photos of all of the places versus their tv anime versions. My first thought was "wow, that place exists in real life!?" My second thought was "these people have no life!"
So while I was at SOS-dan (I have no idea how that address got into my browser history), I found a link to a Japanese site with screencaps from the Haruhi Suzumiya anime and their actual real life locations. Here's one at the library from ep 5: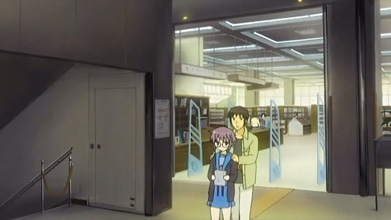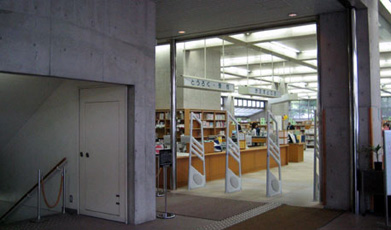 Pretty impressive, huh? I can't imagine the time it would take to travel around Japan looking for the locations, and getting the framing just right. Some photos are done better than others. The library one is just perfect!
There are a bunch of other locations from the anime that people took photos of (how awesome would it be for your house to be immortalized in anime?) at the otaku's page, so be sure to check it out! They've also got some locations from Fate/Stay Night too.