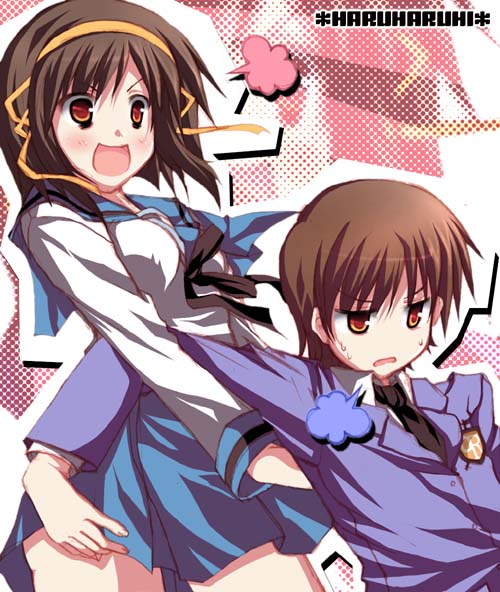 Okay, I think I used the word "Haruhi" enough in the title to get your attention.
This Spring Anime season has been pretty darn good. At the top of the heap (for me) are two anime starring girls named "Haruhi." There's The Melancholy of Haruhi Suzumiya, and Ouran Host Club.
The eternally raging debate in my mind at the moment: which Haruhi is the better of the two? Certainly they both have their good points. Let's do some analysis, AoMM style:
Personality:
Suzumiya Haruhi is an archetype tsunderekko. Sure, she's manipulative and bossy and when she gets bored the world ends, but that smile at the end of the day (almost) makes it worthwhile.
Fujioka Haruhi, on the other hand, is a nerd (+ points for me, I dunno about you). She's pretty laid back considering he's surrounded by hawt guys all the time. I'd label her as the kakkoii-type.
Edge: Fujioka
Hair:
Suzumiya Haruhi has countless hairstyles, and she changes it everyday. Or at least she used to. I'm partial to the buns; it's too bad she doesn't wear those anymore…
Fujioka Haruhi has two hairstyles: short and long. Short looks infinitely better, but still not as cute as Suzumiya.
Edge: Suzumiya
Chest: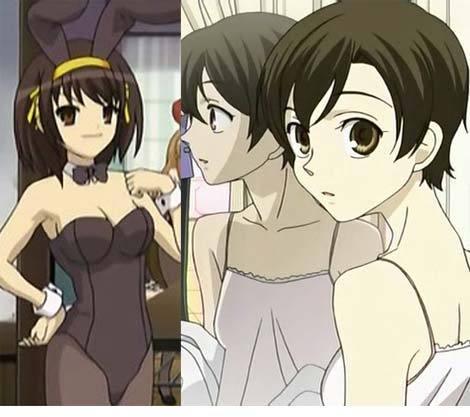 Hmmm….
Edge: Suzumiya
Intangibles:
Suzumiya Haruhi: Hair flip, dancing.
Fujioka Haruhi: Poorness, ability to attract female race, instant coffee making skills, underdog.
Edge: Fujioka
Wow, it's pretty much a tie (okay, so I tried skewing things to make for a better poll). Who do you think is the better Haruhi? Suzumiya or Fujioka? Vote, and be heard!