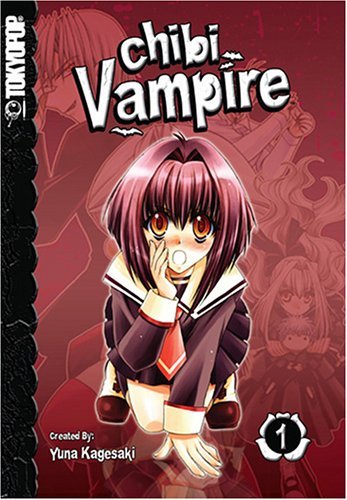 I was minding my own business at ANN, when I saw a review for a manga called "Chibi Vampire." But wait, the girl on the cover looks exactly like Karin! Could this be a Karin knockoff!? Upon closer inspection, it appeared that Chibi Vampire is the North American name that Tokyopop has given Karin.
I believe that the rationale behind this name was to actually describe what the manga was about. "Karin" doesn't really tell you a whole lot about the story… That said, I'm still not sure the move was a good idea.
I usually hate attempts by companies to localize Japanese imports; they usually end up sounding weird anyway. I was under the impression that "chibi" usually describes the art style of a manga or anime. If that's the case, Karin is most definitely not chibi. I think a good example of chibi would be Dejiko from Digi-Charat. Maybe the chibi is supposed to describe Karin's age, but I don't buy that.
So I see a few things wrong with this naming convention:
Tokyopop is deceiving people who actually know what chibi means
People who don't know what chibi means are like, WTF?
People who are interested in the Karin anime might not even know that the manga is available (I was included in this group until, by chance, I saw the cover of the manga).
It's really a tricky thing, localization, and I could probably write about it ad infinitum. Title-changing, subtitles, translation and dubbing are all pretty loaded topics. But I wanna know what you think! Is sticking to the source material most important, or are there things you can get away with in the name of translation? Vote in the poll, leave a comment, or even discuss in the forum! (Yessss!!! A plug for the forum!)