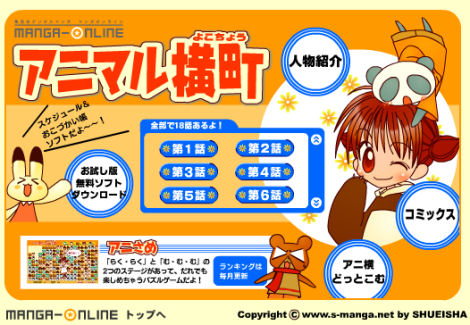 While browsing around looking for Animal Yokocho stuff (I need to get my fix!), I came across the site for the manga. It has little animated flash versions of the manga! I haven't gone through the whole site yet, but it seems to have 18 chapters of flash manga goodness! Plus furigana! There's also a flash game where you double click on the characters heads to make them disappear (not as violent as might think, though).
There's also a bunch of other animated manga on the "Manga Online" website, including Gokusen and a bunch of other ones I haven't heard of.
If, like me, you're going through Animal Yokocho anime withdrawal, this might be your best hope. Otherwise, it's still a pretty cool diversion.