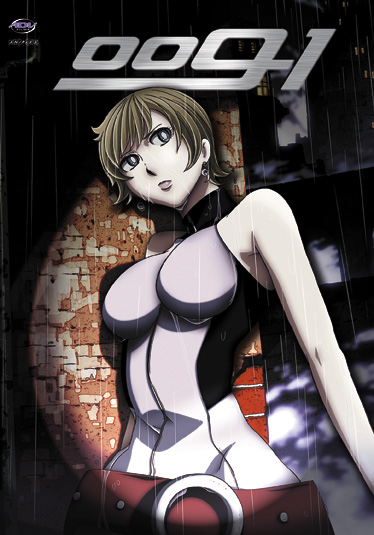 009-1 is that one cyborg spy anime from the Fall of 2006 that really didn't get much recognition. It probably had something to do with the fact that it quickly got licensed by ADV (and stopped getting fansubbed).
Back of DVD Blurb:
In a world where the Cold War never ended, East and West continue to battle for technological and political supremacy. Mylene Hoffman, field commander of the elite Double Zero intelligence division, exists in this world with her eyes open and her body always ready to do battle. She puts the intelligence into "intelligence agent" and her body into "body of evidence!"
Liberating benevolent scientists, tagging along with would-be monster-slayers, meeting her match in the world's most hard-boiled assassin and navigating a deadly labyrinth of horrors are all in a day's work for Mylene. There's no problem she can't solve with the proper application of high explosives, fast-talk, deceptive jewelry, make-up and the right moves behind closed doors!
Analysis:
009-1 is based on a super old manga that was actually written during the cold war. At least, that's what I think I remember learning in the DVD extras. As such, it's got some pretty old school story elements and character design. Even though the anime is from 2006, it really feels like an anime from the 70s (like Lupin, perhaps). That's a good thing.
Each episode has agent 009-1 (it's a pun, since it can be read "ku-no-ichi" or "female ninja") on a different mission, each super dangerous. Right now the plot progression is extremely episodic. Each episode is self-contained, and you could really watch them in any order without really missing much.
What I like about this anime is that it doesn't really force you to pick sides. Agent 009-1 is a spy for the Western Bloc. So from her perspective, the Eastern Bloc is bad. But is it really worse than the Western one? We see both sides doing some pretty bad stuff. In the end, I think the anime is more about the effects of what a really long cold war can do, and how it brings out the worst in people. Oh, and the fanservice and action are pluses, too.
Character Designs and Art:
Being adapted from an older manga, this anime has some pretty weird character designs. Like why do character designers insist on making dudes with noses as big as a banana? 009-1 is super hot, though, in a retro kind of way. I really like her rotating outfits.
The actual animation quality is really good. It does a good job of capturing the essence of the older anime style, but with much higher quality.
The Actual DVD:
ADV did a pretty sweet job with the production of this DVD. The extra features include an informative interview with the Director and Staff (who looks super creepy), a menu section on how the manga became an anime, and another menu section on the many weapons of the anime. There's also the clean OP and ED.
Included in the DVD case is a super awesome booklet that gives extra info on all the major and minor characters that appear in the four episodes. I suggest you don't read it until you actually watch the episodes though. Otherwise they have a lot of spoilers. There's also some interviews in the booklet, too. Talk about complete!
Conclusion:
009-1 was a really pleasant surprise for me. I came in with some pretty low expectations and the anime really blew me away! I really like the style that the anime exudes, and the packing is also top notch. This is the first anime DVD in a while that I can actually suggest spending some cold hard cash on.
Many thanks to ADV for sending me a review copy of 009-1 Volume 1!