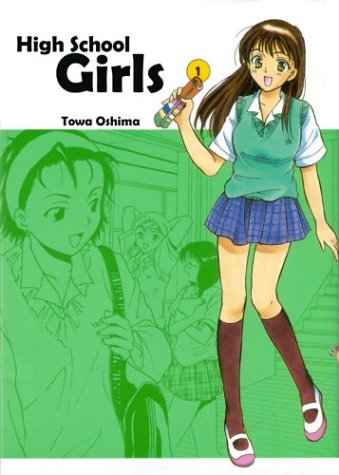 I remember watching the first episode of Joshikosei GIRLS HIGH and thinking it was totally lame. But also thinking it was kind of funny. I never continued watching the anime, but I did get a crapload of the manga to review!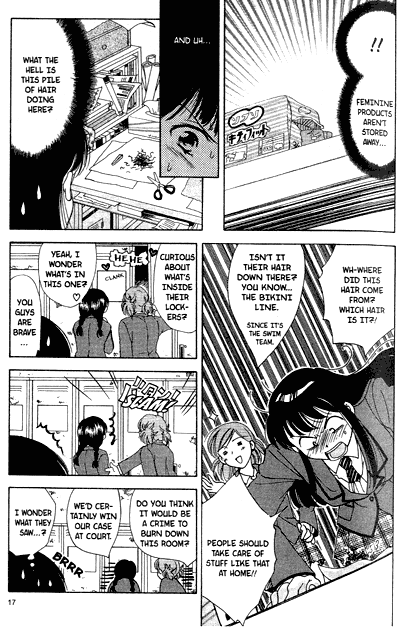 Story:
High School Girls is about… High School Girls. Ayano, Yuma and Eriko beginning life at an all girl's high school. They're "outsiders" since they transferred in rather than coming to the high school section from middle school. Therefore, they must work extra hard to assimilate in to the already existing cliques!
Luckily, they make friends with the insider, Kouda. And so begins this slice of life comedy about the secret lives of high school girls.
Analysis:
I sort of made the manga seem like it had a plot from the description above, but it really doesn't. The manga just goes from random story to random story about the girls learning things about high school. There's a chapter where they sneak in and check out the grossness of the swim team's club room. Then the obligatory Summer chapter and the school festival one.
I'd describe High School Girls as being a sort of exaggerated slice of life story. The manga isn't as surreal as Azumanga Daioh, but not as "normal" as something like Yotsubato! Apparently the story is drawn from the real life experiences of the author herself.
To be honest, I really enjoyed reading this. Probably more than I should. It's all pretty stupid humor, but that's really my favorite kind. I could do with less jokes about periods and tampons though. Ewww.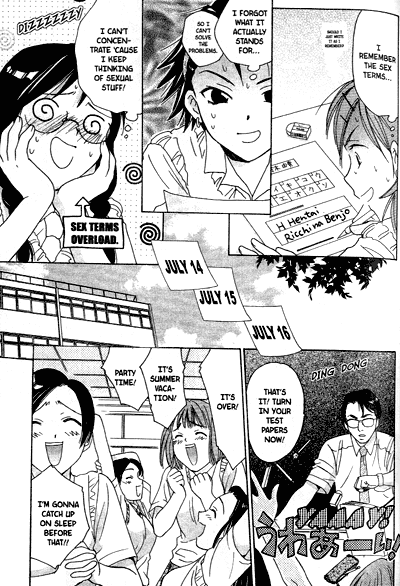 Character Designs and Art:
Generally speaking, the character designs are pretty good. I 100% approve of the meganekko with twintails, Ayano. The other designs are fun too, like the super fat perv teacher and the pig face kogal. I can take a pretty good guess at who the author didn't like in high school.
The art is also drawn in my favorite style. The art is pretty cute to begin with, and there's a ton of SD here and there.
I also noticed that there was a lot less fanservice in the manga compared to the anime version. The anime had non-stop fanservice. The manga has some panty shots here and there, but they're not really emphasized.
I can't figure out if this manga is geared towards males or females. The fanservice would say male, but the story seems more female. I guess it works for both, since I think it's pretty funny.
The Actual Book:
The actual book is printed in a pretty cheap paperback. I think the book was printed before DrMaster started getting their act together in terms of print quality. It isn't as bad as Stellvia, though.
As far as extras, there's a fun afterword by the author that documents more of her weird adventures in high school. Seriously, did all this stuff really happen?
Conclusion:
High School Girls is a lighthearted, random romp through the lives of Japanese schoolgirls. If you're looking for serious social commentary, you won't find it here. If you like dumb humor and occasional panty shots (like me), this manga is totally awesome! I'm dubbing this my guilty pleasure of the… month? And maybe year if I keep reading it.
Many thanks to DrMaster Publications for sending me a review copy of High School Girls Volume 1!