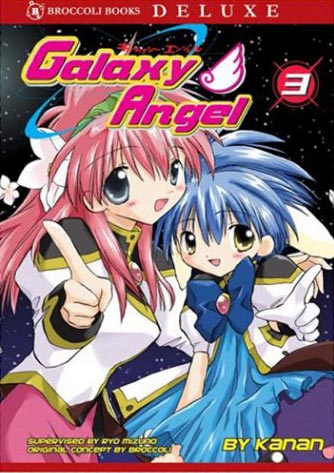 With my Kamui backlog out of the way, it's on to the Galaxy Angel backlog! I've got 9 Galaxy Angel manga to read after I'm done with this one so let's get started!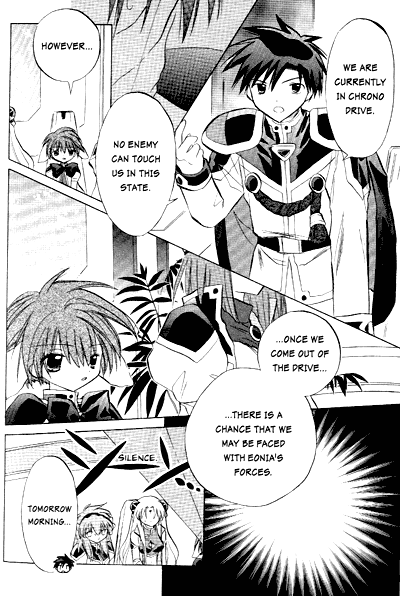 Story:
In this volume of Galaxy Angel, Takuto finally makes contact with Prince Shiva. Also, a mysterious intruder sends flowers for Ranpha. The Angel-tai have a short battle with the "Hell Hounds" and lose. Takuto blames himself since it's his duty to make sure the angels are in fit mental shape to fly their special ships. Takuto will need to rally the angels again, which might be a tough task since it seems they're developing feelings for him.
Analysis:
Takuto is really starting to build his harem. Last volume he was getting close to Ranpha. This volume he's taking on Milfie and Mint! Well, probably less Mint and more Milfie. Besides that, Takuto does make some progress by getting Prince Shiva to play chess with him. This volume is mainly a character building one. There's not too much action besides the very short battle and the intruder chase (which is also really short).
There were also a lot of cool extras in the back of the book (as always). Like some 4komas and background info on some of the other characters. It's a nice touch since the 4komas are really cute.
Conclusion:
Galaxy Angel Volume 3 is just another solid volume. I sorta wish a little big more would've happened in the relationship department though. Everything is so tame. I guess this is more of a shoujo series, but we need some action! I imagine things would be different if this was based on an h-game…
Thanks to Broccoli Books for the review copy of Galaxy Angel Volume 3.