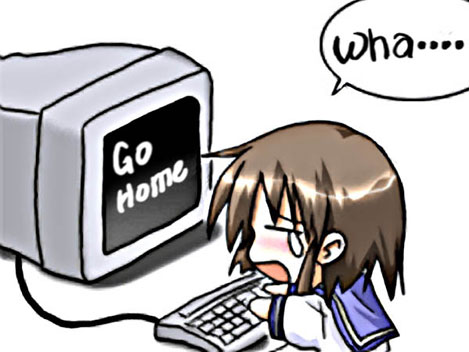 So when I first started up the anime forums section of this ol' site, I did so somewhat recklessly. That is to say, I figured I had the resources to put em up there, and that was enough of a reason.
Things started off pretty cool with nice people such as Mr. Rogers (okay, he's my cousin), Os, and Problematic (one of the reasons why she's the nicest anime blogger around) joining and contributing a lot!
Anyway, I originally wanted to make the forums "the" place to discuss anime, manga, and other junk so I pushed it a lot. When it seemed that no one else really wanted to join the anime forums, I was like, "okay, that's cool I guess" and sorta gave up.
Starting a forum community is probably one of the hardest things to do ever, besides running a four-minute mile or eating just one Lays potato chip. There's lots of other awesomer anime forums besides mine, so why should anyone join, right?
As long as we're talking superlatives, seeing a forum go stagnant is also one of the most depressing things ever. Not that it's hurting my ego or anything, it kind of depresses me that there's a bunch of cool people (previously noted) on the anime forums that don't have anyone but me to talk to. Personally, I'm fine with having conversations with myself (I do it all the time).
Anyway, I figured I shouldn't give up on the forums just yet, so I'll be trying to contribute more and make it a happening place! Most stuff that I don't deem appropriate for the main page (like my small paragraph rant on how Ilya is way cute) will go into the forum. I'll also try to write episode commentary in there (since I'm too lazy to make full length posts for mere episodes). I'll also throw in my random thoughts for good measure.
If the forums still reek of suckitude, I'll at least be able to say I tried. Many thanks go out to the original members of the forums. You guys rock (except Mr. Rogers)! If you wanna help support the forums, please consider linking to em if you haven't already, or even putting the "Most Recent Posts" code into your sidebar if you have a website. Probably wishful thinking on my part, but I guess it doesn't hurt to ask! I've really had a lot of fun discussing stuff on the anime forums, and I think the more, the merrier, so join if you want! [End Rant]