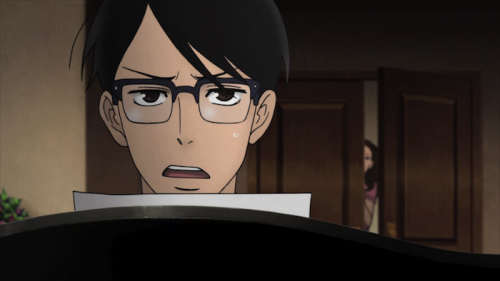 I heard this anime was about jazz, so I couldn't really pass it up. As a music (and especially jazz) nerd, I was very interested in seeing what this show is about. Turns out it's a period piece (probably late 50s, early 60s?). This makes sense, as most kids in Japan today are probably not going to be into jazz.
The story follows a high school kid (Nishimi) who migrates from school to school and never really develops any lasting friendships. He develops a crush on the class president (Ritsuko) and finds a friend in the class trouble-maker (Sentarou). There's a weird love triangle going on since the two aforementioned characters are childhood friends.
Anyway, the plot is really about how Nishimi learns to make friends through music. He's classically trained as a pianist, but this doesn't fly with Sentarou, who has a jazz-only rule. Nishimi manages to play the opening line to Moanin' (the Art Blakey one, not the Mingus version) super square, thus eradicating his jazz cred. Nishimi then buys the record and plays along (which is what any self respecting jazz learner would do).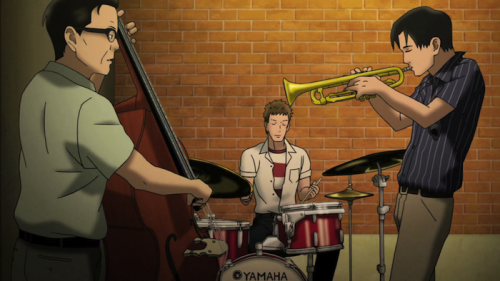 Eventually he catches his break and gets invited to a jam session where he does a (probably too) good job of sitting in, having probably never heard Bag's Groove before (though it does just follow a simple blues form anyway). You don't really go from super square to comping like that in a day. Though he actually did a pretty bad job of comping when he threw up embellishments all over Jun-bro's trumpet solo. Know your place, dude! But I digress…
Later on, they go to a beach and Ritsuko wears a one piece bathing suit. But who cares! Let's hear some jazz! Oh, and Nishimi judges both of his friends for being Christians (though from the sound of it they seem to be part of a cult or something). Also, Sentarou falls in love with some broad, so maybe the love triangle will be broken soon.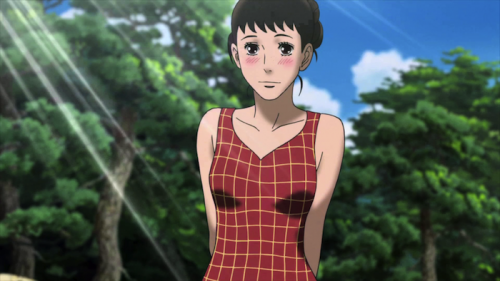 So far the selection of music has been good. Hopefully they continue to have music segments so I can try and show off by naming songs. Okay! I think I've found my anime for this season! Also, random thought: Why are the OP and ED not jazz? I can understand the desire to sell singles, but still, come on, the show is about jazz! Music picker, you had one job!
(Also, if anyone wants to start an anime/jazz fan jam band, I'm up for it if you need a trumpeter)