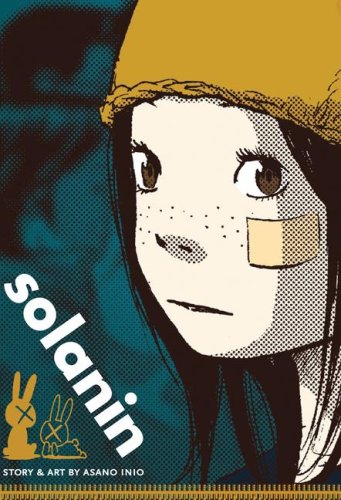 I heard about Solanin twice in the course of a week or so (once at a staff pick section in Barnes & Noble and another from a Twitter feed) so I figured I would get it from the library.
Blurb:
College graduates struggle to cope with the real world. Music offers refuge in this modern manga with an American attitude.

Meiko Inoue is a recent college grad working as an office lady in a job she hates. Her boyfriend Shigeo is permanently crashing at her apartment because his job as a freelance illustrator doesn't pay enough for rent. And her parents in the country keep sending her boxes of veggies that just rot in her fridge. Straddling the line between her years as a student and the rest of her life, Meiko struggles with the feeling that she's just not cut out to be a part of the real world.
Review:
I think Solanin (ソラニン?)sets really high expectations and ultimately fails to deliver on them. There are lots of characters, all with unique backstories, but the interesting ones (non main characters) get pushed aside for the main plotline which I found kinda dull.
Temporally, the manga is really confusing. Manga typically signify a flashback via black borders around the edges. I couldn't tell what was a dream, what was a flashback and what was happening in "real-time." I'm still not really sure what happened in the story. Maybe that's intentional?
This book is definitely relevant to my interests as a mid 20-something going through a quarter life crisis. I have a feeling it would be more relevant if I was living in Japan. There are a number of cultural references and it's hard to pick up on them if you don't know about Japanese culture. For example, the job of Office Lady (OL) doesn't really exist in Western culture. Meiko is fighting against that culture of working at an office to find a hard working husband so she can quit. From a Western perspective, I think Japanese feel more "trapped" in their system than many of their Western counterparts do.
I think this is a first attempt from the author. In that case, it's good, but the amateurishness of it definitely shows as well. Solanin shows promise, and it isn't bad, but I feel it could have been a lot better.