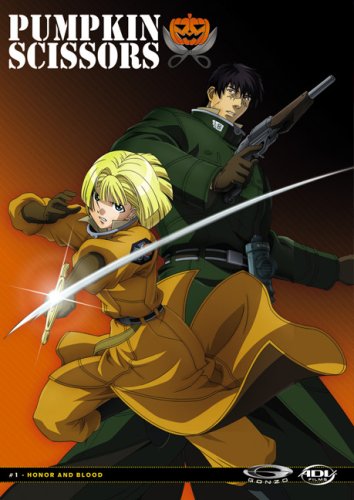 I just carved a jack-o-lantern like last night. And guess what I used to do it? Pumpkin Saws. I hate to break this to you, but Pumpkin Scissors don't exist in real life.
DVD Blurb:
THE EMPIRE LIES SHATTERED!
SOME CASUALTIES OF WAR NEVER HEAL.
Yet for those who remain in power, the spoils can be sweet indeed. In the aftermath of the Great War, Lt. Alice Malvin is charged to take command of the Imperial Army's Intelligence Section Three, an elite team where even the newest member hunts down tanks with a handgun. Their code name: Pumpkin Scissors. Her mission: to sharpen IS3 into a deadly instrument of justice, and to expose the corrupt power-mad nobility who prey on the weak.
But as Malvin starts to peel away the layers of a government cover-up involving a defunct super-soldier program, she discovers the existence of a military technology decades ahead of what the Army has! As terrifying secrets crawl out of the tomb in which they were buried, war becomes hell in the first stunning volume of PUMPKIN SCISSORS!
Analysis:
Ah, Pumpkin Scissors. An ill-chosen name for an anime, perhaps. But is the actual show any good? I guess it depends on your taste. Pumpkin Scissors is a sort of alternate universe post WWII reconstruction sci-fi anime.
The "Pumpkin Scissors" travel the country, making sure that peace is kept after the war. Alice is interesting in that she's a noble, yet she gets down and dirty in her squad (I mean, like with fighting). Oland has some kind of crazy back history which we may never really learn. Mercury, the dog, bites people. Yeah, it's an interesting cast.
The stories are all fairly episodic, meaning you can watch one, put it on the shelf, then watch again without much loss. There's some kind of conspiracy (and overarching plot) being hinted at towards the end of the DVD, but mostly this anime just has 24-minute stories about the squad helping people and blowing up tanks.
It may already be getting old, though. Like how many times does the squad have to fight an enemy that conveniently uses a tank? It'd be nice to see Oland not use his tank pwning skills in at least one episode. And episode 3 doesn't count because he pwns a rock in berserker mode (but probably pretended it was a tank…).
I really like the random cute girl and the dog. If the anime had more of them, I think I'd enjoy it more. Also, I keep thinking the cute girl wears glasses, but she doesn't… I must be doing some kind of mental projection of what I want the cute girl to look like by adding glasses. I wonder if I do that in real life, too?
The Actual DVD:
This thing is pretty barebones. Just the DVD cover and a DVD. There aren't any "special" special features. Just the clean OP/ED and previews and credits. I don't believe there's even a box set available for this series.
Conclusion:
Pumpkin Scissors is enjoyable enough as an anime, I suppose. But there's nothing really remarkable about it. The animation is good enough, the story is interesting enough, and the characters are slightly generic.
Perhaps that's why the anime is called "Pumpkin Scissors." If it didn't have a ridiculous name, no one would ever remember it…
Many thanks to ADV Films for sending me a review copy of Pumpkin Scissors Volume 1!