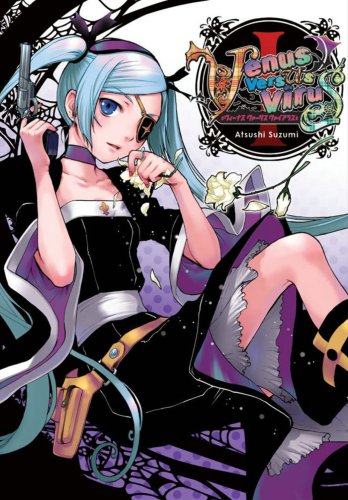 Venus Versus Virus certainly wins in the alliteration department, but how does it stack up as a manga? Who cares? There's Yuri!
Book Blurb:
Sumire Takahana is a seemingly normal school girl cursed with the ability to see malevolent ghosts known as "Viruses." Her life hits a crossroads after a run-in with a "gothic lolita" clad monster killer for hire, Lucia Nahashia.
Not content to stay on the sidelines while these "Viruses" prey on the weak, Sumire decides to join forces with the mysterious eyepatch-wearing Lucia to hunt down these "Viruses" before they can hurt anyone else.
Analysis:
I already said this when I reviewed the anime, but I think it bears repeating. VVV is a pretty damn generic manga. At least, the story elements are. It's pretty much a mix between D.Gray Man, Bleach, and Busou Renkin. There's probably another in there that I'm missing… Zombie-Loan, maybe? At any given time, the similarity between VVV and one of the aforementioned series is fairly obvious.
So what makes this series worthwhile, then? Well, D.Gray Man, Bleach, and Busou Renkin all have male characters in the lead roles. Venus Versus Virus has a girl as a main character, and a girl as the "teacher" character. And this adds up to a whole lot of implied yuri! It's all pretty tame, though. Mostly the other characters just flip out when they see Sumire hanging out (and later moving in) with Lucia.
Character Designs and Art:
Lucia's totally got some strange stuff going on with her gothloli eyepatch thing. I'm not a huge fan of either. I prefer the bandage or cast look, personally… Wait, did I just write that? Sumire is a dead ringer for Hazumu from Kashimashi. Fairly plain, but I think the "Berserker Sumire" design makes up for it while she's flipping out.
Despite the fairly generic story and designs, I will say that the art itself is really sweet. I usually get way confused during manga action scenes, but it didn't happen at all in this book.
Conclusion:
Soy sauce is a magical seasoning. Add it to any dish, and it suddenly tastes a lot better! I mean, anything besides cereal or fruit. Same thing with Yuri in manga. Add a dash here and a sprinkle there, and any mediocre manga becomes readable! Not that I'd call VVV mediocre; it's more of a slight underachiever.
In the case of Venus Versus Virus, I think the yuri element adds enough for me to want to read this instead of say, D.Gray Man. Sorry, bishounen, you can't win against girl's love.
Many thanks to Seven Seas Entertainment for sending me a review copy of Venus Versus Virus Volume 1!