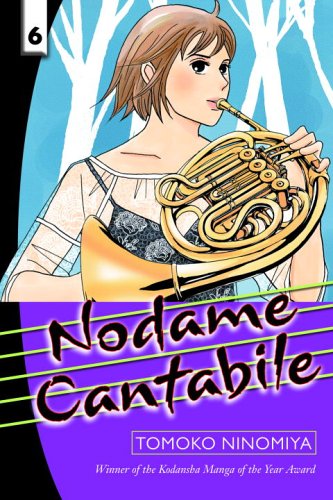 Volume 6 of Nodame Cantabile has Nodame playing the French Horn, which is just called the Horn in places where people know what to call musical instruments (not here). I played the Horn in high school, and yep, Nodame's playing it correctly. Though it looks somewhat small in scale…
Story:
After his awesome performance with the A orchestra, Shinichi is constantly being told to study abroad. After all, classical music is a Western tradition; how can you get good in Japan? Unfortunately, Shinichi still can't go on a plane or a boat. He's too afraid of snakes drowning.
Instead of going abroad, he meets up with the hot concertmaster from the Summer festival. She wants to start up a new orchestra with Shinichi in the lead! Plus she's hot!
Graduation marks the start of the characters' new lives. Like Nodame, who wakes up the next morning with Shinichi in her kotatsu. No innuendo here, he's actually sleeping in her kotatsu… This leads to Nodame accompanying Shinichi to his uncle's house where she's introduced to the family! I'm so happy for her!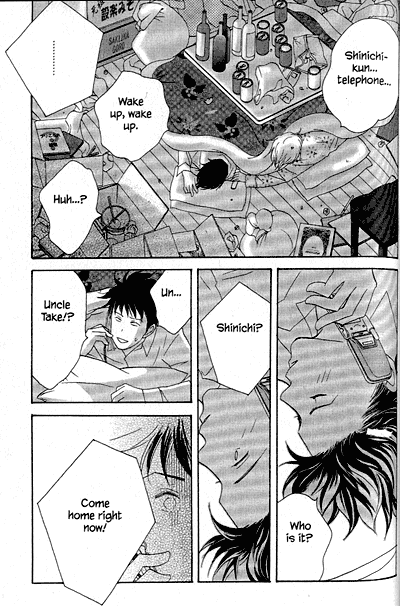 Shinichi's got some 'splainin' to do…
Analysis:
So this chapter has a few important plot points. One, the hot concertmaster is totally a rival for Nodame. Nodame, fight! Next, Nodame is introduced to Shinichi's family and wins them over, despite physically abusing the daughter by way of airplane rides. It seems like Shinichi and Nodame have something in common, with their talents that they need to enhance. Nodame would rather be a kindergarten teacher, though that'd be too much of a legal liability…
Generally speaking, Shinichi seems a lot more tolerant of Nodame. I think it means he likes her. Or that he's just getting used to her. Which is arguably the same thing.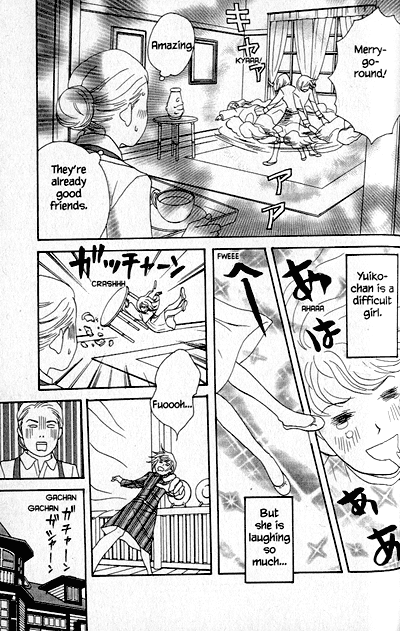 It's all fun and games until someone gets hurt.
Conclusion:
It's nice to see stuff moving in the plot. Nodame already got introduced to the family! That's like a major relation step! Next thing you know, they'll get married! IYAAAH!
Incidentally, there's a "real Nodame" that this manga is based on. I wonder if she's running a sort of "reality tour" that the real Kramer from Seinfeld did…
Many thanks to Del Rey Manga for sending me a review copy of Nodame Cantabile Volume 6!