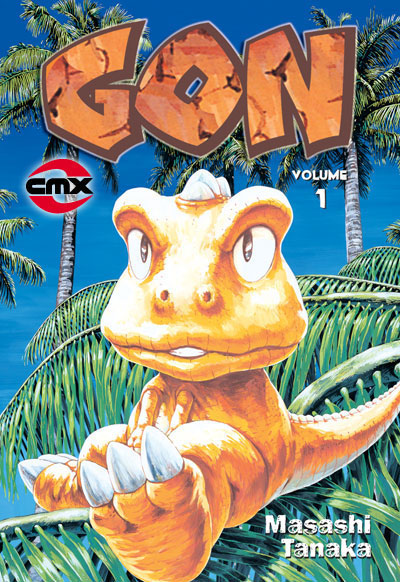 Gon: I remember the name well. It's that damn cheap bonus character from Tekken 3! GONNNNNNNNNN!!!!!!!
Story:
Gon is a dinosaur or something. He roams the earth, annoying creatures everywhere. Basically, Gon's an asshole.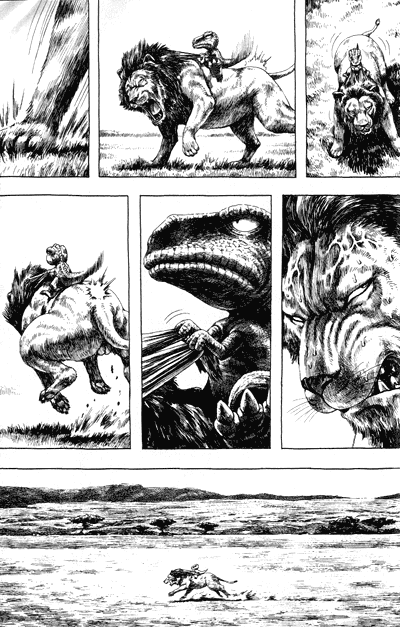 Analysis:
Gon (the manga) is most notable for not having any words. This makes Gon much easier to translate. Basically, all CMX needed to do was translate the chapter titles. There aren't even any sound effect words. The back of the book lauds this as some kind of storytelling breakthrough. Yes, it's amazing. I can totally tell that Gon's a douchebag without words!
The problem I have with Gon probably stems from my Tekken 3 days when someone would pick Gon, and it'd be really annoying to fight him. After a while, Gon was banned from Tekken 3 play completely. Even mentioning the name "Gon" would result in a severe beating (in real life).
That hatred extends to reading the manga, but I honestly think I'd find the manga bad without those horrible Tekken memories. Gon just goes around being an asshole to animals. That's about it. That's all that happens. Why would anyone find this amusing?
Also, the wordless storytelling does not work 100% of the time. In the first chapter, I was thinking to myself: "why is that bear fighting the smaller bear? Isn't that the bear's kid?" So much for conveying meaning with pictures only.
Character Designs and Art:
Gon is an annoying little dinosaur. He's not cute.
A wordless manga should stand on its art quality. I personally found it kind of lacking. The art is too sketchy (as in it looks like just sketches rather than completed art) for my tastes. As I noted earlier, the art is confusing at some points.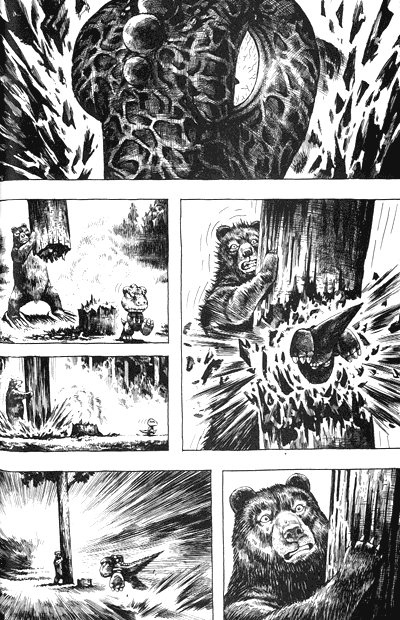 The Actual Book:
CMX has decided to pass the savings of not having to translate this book to the customer. So it sells for $5.99 retail. I think that's probably the only positive thing about Gon. I'd still rather buy 2/3 of a good manga than Gon, though, given the choice.
Conclusion:
Gon isn't cute; he's an ass. Gon isn't a breakthrough in storytelling; it's confusing. When I think about it, they captured Gon's character completely in Tekken 3: annoying and cheap.
Many thanks to CMX Manga for sending me a review copy of Gon Volume 1!