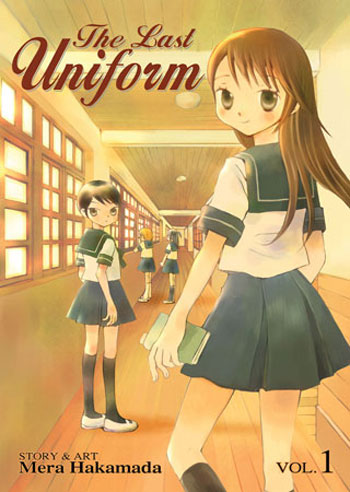 Fact: Going to an all-girl's school makes all girls into lesbians.
Proof: The Last Uniform, Volume 1.
Where can I sign up?
Story:
Each girl at the Tsubakigaoka Girls' Dorm is paired with a roommate. Tsumugi with Beniko, and Ai with Fuuko. Yet the girls each have their own crushes on each other, and it's making it impossible for them to stay "just friends."
Analysis:
Seriously, it's like magic how going to an all girl's school makes girls start liking each other. Like way more than friends. Almost every girl in the school has a crush on some other girl at the school. But some of this love is unrequited! Ah, love triangle get!
The stories in this manga are pretty tame. There's nothing you'd find in a ecchi doujinshi. Not that I own any ecchi doujinshi… The farthest that anyone gets is first base, maybe. So rather than focusing on the more torrid aspects of girls' love, the book goes for the emotional side. I guess there's a limit to what they can put in this manga (it's rated as ages 16+).
So what do we get? The content is actually really cute. Basically we're introduced to each girl, we find out who that girl likes, and maybe the girl makes a breakthrough in their relationship. In the context of this manga, that means perhaps an accidental kiss. That'd be pretty lame for a normal manga, except that TWO GIRLS ARE DOING IT! That's good enough for me!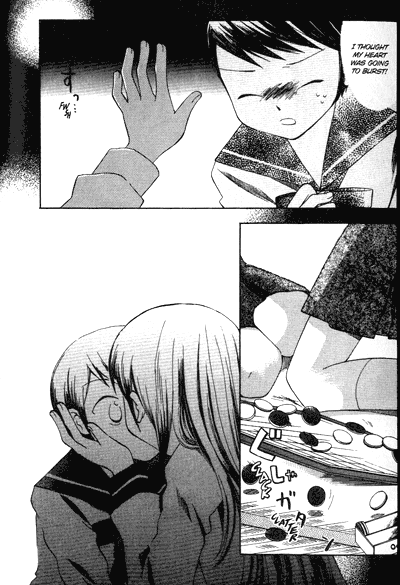 Art and Character Designs:
Adding to the buzzkill of not having the characters get past first base is the character designs. They're all really chibi. These girls are supposed to be in high school! The designs lean towards cute rather than hawt. Anzu, the blonde one, is the cutest. Fuuko is pretty much a boy, while Tsumugi is a tsundere tomboy. Then there's the popular one, Beniko, and the former nerd Ai. I think Tsumugi is my favorite, so far. So hot.
I kept on getting Ai and Beniko mixed up. They look too similar.
The Actual Book:
This is the first(?) manga in Seven Seas' Strawberry line. I guess that's why the book is extra big. I've said before that the standard sized manga is a little too small. The larger size is really nice on the hands. It makes it easier to read while holding the book with one hand. Hey, no jokes about what I use the other hand for! This is a family blog!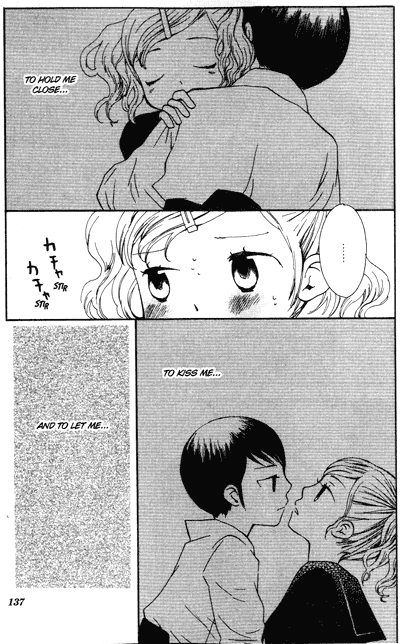 Conclusion:
As a guy, I support anything that has girls kissing and having feelings for each other. While The Last Uniform doesn't exactly "deliver the goods," the cute relationship stuff is actually nice. I'm not sure whether yuri is more of a male or female genre, but I certainly enjoy it. I have to wonder whether things will progress further, but for now, I'm fine with the way things are going in the story.
Many thanks to Seven Seas Entertainment for sending me a review copy of The Last Uniform, Volume 1!