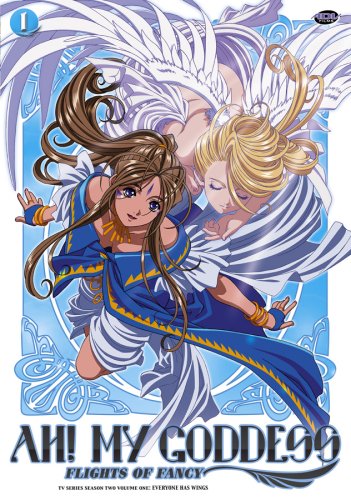 So I got a review copy of Ah! My Goddess! Second season DVD. But I've never seen the first season. Although I did watch a few of the OVAs like, a hundred years ago. So yeah, I watched it anyway.
DVD Blurb:
It's been almost a year since the Goddess Belldandy came to live with college student Keiichi Morisato, and he's almost gotten up the nerve to kiss her. Unfortunately, the encounter with the Lord of Terror damaged some of Yggdrasil's systems, and the contract binding Belldandy and Keiichi is among the lost data.

Christmas is coming up, and the lovebirds can only hope the information can be retrieved before The Almighty One orders Belldandy back to Heaven. Naturally Skuld and Urd try to help, but it might be better if they didn't. And worst of all, circumstances may have driven Belldandy to drink!

What happens when a Goddess is (literally) drunk with power? Find out what happens next in Ah! My Goddess, Season Two.
Analysis:
So like I explained earlier, I haven't watched much Goddess in the past. I never watched the first season of the TV series, and I saw some of the OVAs really early in my anime watching career (like at the same time as Love Hina?). Oh, and I remember watching some mini-goddess and thinking it was really funny.
Basically, you've got this useless guy, Keiichi, who has a contract with a goddess named Belldandy who watches over him and makes sure that he's happy. They're not really married or anything, but they act like a couple. They live in this temple along with Belldandy's sisters, Urd and Skuld (not to be confused with the Power Rangers' Bulk and Skull) who generally make Keiichi's life harder. Or at least, I think that's what they're supposed to do. Maybe at this point of the story, they like him more.
So yeah, I thought this anime was super boring. I mean, I'm all for slice of life and stuff like that, but NOTHING HAPPENS. I know, the relationship between K1 and Belldandy is sweet and all, but it feels like I've seen this all before in other anime. Now, it could just be that since the source material is old (the manga is from 1988), this story was revolutionary, and other anime copied it. But hey, it's 2007 now!
I was guessing plot points left and right with amazing accuracy (hey, I bet Keiichi's gonna have to work to pay for the ring and Belldandy will get worried! hey, I bet the ring'll be gone when he tries to buy it! hey, I bet Belldandy'll get drunk off the soda!). Sorry, but this anime just doesn't do anything for me. Moreover, it gets wayyyyy too touchy feely for my tastes.
Character Designs and Art:
Say what you will, but I think Belldandy is really plain. There, I said it. I think again that it has to do with the age of the source material. She's not ugly or anything, but she's not super moe either. I think I like Urd and Skuld better anyway. At least they have personalities. Oh, and the ojou was really entertaining, too. With her "Oh ho ho ho" laugh.
At least the animation is really nice. I'm not quite sure which studio did this, but whoever did, nice job!
The actual DVD:
So as far as the DVD goes, it's nice. The picture quality and all that is good. There could've been a few more extras, though. I generally skip the op, ed, artwork, and previews since they're standard on almost all DVDs. It's not really an "extra" when all DVDs have them, right? There's also some voice actor commentary, but it's the English VAs so I skipped that, too.
At the very least, the subtitles were done well, with different colors for different speakers, etc.
Conclusion:
Maybe it's my lack of watching the first season, or the age of the manga, or just that I don't like boring anime, but I didn't really enjoy Ah My Goddess too much. Oh, and the feelings. Those were a bit dramatic.
Many thanks to ADV for sending me a review copy of Ah! My Goddess! Season 2 Vol. 1!