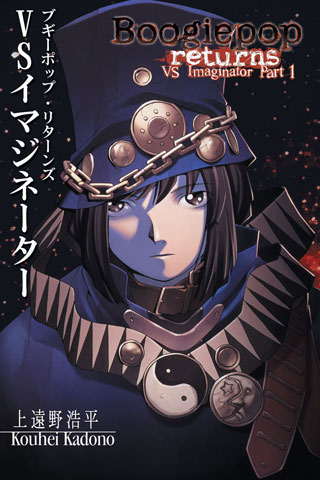 Boogiepop Returns: VS Imaginator continues the "Faulkner lite" reading that the first Boogiepop Phantom novel started. We get new characters, new villains, and even a new Boogiepop!
Story:
The events in Boogiepop Returns happen mostly after the events of the first novel. Duh, it's called "Boogiepop Returns" for a reason, right? In this installment, Boogiepop faces another enemy, this time in the form of the "Imaginator." Not only that, there's also a fat guy by the name of "Spooky E" whose name indicates gangsta rapper, but whose actual identity is more like an alien brainwashing badass.
Analysis:
I didn't like this novel quite as much as the first Boogiepop one. I think it's because this is a multi-parter. Since this is only part 1 of Boogiepop returns, there's still a lot of unanswered questions. For one thing, Boogiepop doesn't even find the Imaginator. She(?) fights the Spooky E guy, but that's not satisfying enough!
The novel is interesting, but I just felt as though I wasn't getting the whole story. Most importantly, the end of the novel didn't really bring any closure; it just teased you for the next volume. I do like the subplot with the kung-fu expert Taniguchi Masaki (who impersonates Boogiepop and fights crime) and Orihata Aya (who reminds me a lot of Nagato Yuki from Haruhi).
There's also a funny essay about "pop culture" written by the author at the end of the book. It really makes no sense and it's more of a weird extra than anything else.
Conclusion:
I find myself liking these Boogiepop Phantom novels because of the ways that the characters interact with each other. It's all really gritty and realistic, and it seems to explain the plight of Japanese youth (like with cram schools and all those crappy entrance exams), though in a sci-fi setting. I haven't seen any of the Boogiepop anime, manga, or movies, so I'm really experiencing the story in the way it was intended (minus the whole language translation thing). Seems pretty cool to me!
Many thanks to Seven Seas Entertainment for sending me a review copy of Boogiepop Returns: VS Imaginator Part 1!