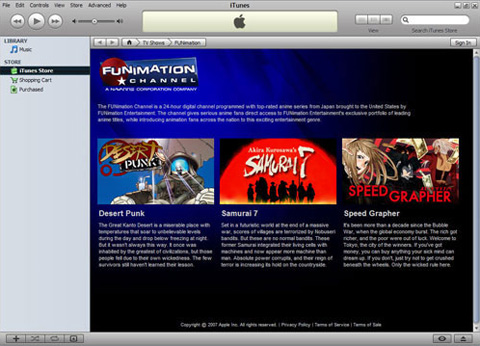 Apparently, Funimation has added some of their anime titles to the Apple iTunes store. Right now, you can download episodes of Desert Punk, Samurai 7, and Speed Grapher.
The anime is available only in the English dub version, and they're 640×360. I took a look at a few of the previews of the shows. Assuming the the quality of the previews are the same as the actual downloaded episodes, they look pretty good.
Individual episodes cost like $2 and a season pass costs about $39. Not way too bad, considering that most single DVDs are $30 retail. Then again, you don't get Japanese audio tracks, extras, or an actual physical product….
Now, if companies can figure out how to synchronize releases with the Japanese airings and provide high quality dubbed episodes, I'd be all for that. Maybe throw in a coupon or voucher for the DVDs when they come out and you've got a winning business plan!