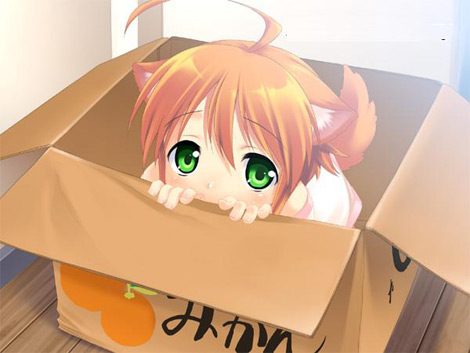 About a month or so ago, my brother took a trip to Japan. When he asked me if I wanted him to bring me anything back, the first thing I thought of was naturally a cardboard box that said "mikan" on it. I mean, it's not like I can just order one of those online! After trying to explain the allure of such an item (and failing; he's not a big anime watcher), I just told him to get me whatever. He succeeded in getting some cool stuff, but I'm still without a mikan box.
Mikan boxes seem like they're just old boxes that used to have tangerines in them, yet they do have a strange place in cult anime culture. They're not just boxes; they've got special intrinsic value! I have yet to see the phenomenon explained, but I know it's something!
I've seen mikan boxes in a bunch of anime, and I always wanted my own just to have lying around. People in the know would be like, "cool box!" and people outside would be like, "are you poor?"
Mikan boxes are to anime as Ron Howard's brother is to movies. They appear in so many, but if anyone asked you which anime/movie you saw them in, you probably wouldn't be able to pinpoint the exact one. In this sense, maybe it's better not to explain it. Anime needs weird obscure references, just like Hollywood needs that strangely familiar looking ugly guy in the background… or maybe not.
If anyone has info that can shed light on this strange anime meme, please let me know. I've been wondering about it ever since I saw that first mikan box in that one anime, so long, long ago. I've picked up on quite a few anime memes, but this one has always seemed to allude me. Is there really some deep meaning to them, or are they just old cardboard boxes?