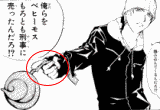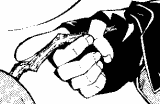 Via ANN, Via Manganews, Via ODN.ne.jp,
Apparently, manga characters are evolving a 6th finger. No one really knows why. As Manganews has translated:
In any case, fingers are a pretty famous topic in manga, but 2004 saw some strange occurrences: one after another, titles from famous shonen magazines started showing people with 6 fingers.
I thought that originally, cartoon characters had four fingers because they were easier to draw. Think about it. If you're doing 24 or so frames per second, and you have 1 less finger to draw per hand, that's 63,360 less fingers to draw per character per 22 minute anime episode! Sure, fingers aren't the hardest thing to draw, but they add up!
I wonder if this is just a wacky coincidence, or if these manga artists are seriously trying to change the way that manga are universally drawn. Do they really need to make things harder for themselves? Though it's weird seeing six fingers on a manga character, it's probably just as strange seeing 4 fingers on an American cartoon character. I've just sort of been desensitized to it.