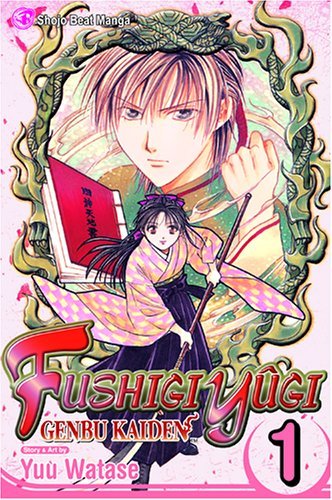 Continuing my adventures in girl manga reading, today I check out Fushigi Yugi Genbu Kaiden.
Fushigi Yugi Genbu Kaiden is a prequel to Fugshigi Yugi. Unfortunately, I've never heard of Fushigi Yugi to begin with! Okuda Takiko is girl whose family is in ruins. Her mom just died, and her father is obsessed with his book, The Universe of the Four Gods. Right after he finishes writing it, Takiko runs in and snatches it from him! She runs away with it, complains about not being wanted, and generally acts like an emo.
For revenge, against her mean ol' dad, she rips the book in half! This causes her to be magically transported to some snow level. She wanders around and then encounters a bondage girl strapped to some obelisk.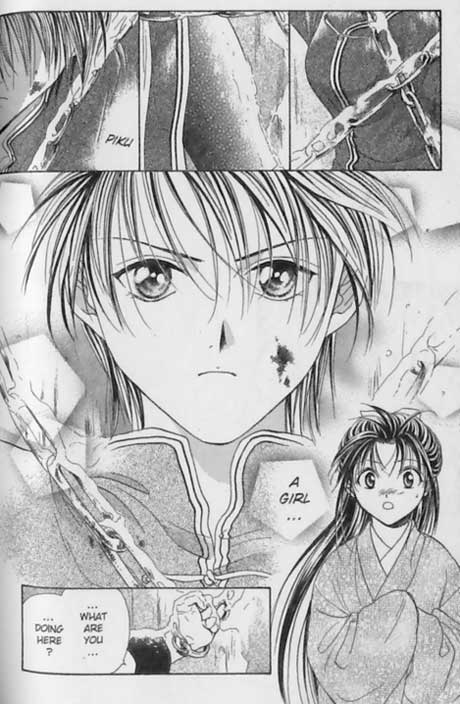 Bondage girl tells Takikio to get the heck outta there, but it's too late. Some snow monsters (or something) show up! And that's the end of the chapter. Seriously. This chapter was really short; only 22 pages.
It really feels as though Shojo Beat didn't include enough for this manga. What I'm left with after reading the first chapter is basically confusion. I didn't get a feel for the characters at all. Maybe I needed to read the first Fushigi Yugi manga before reading this. Basically, this manga preview chapter hasn't hooked me in at all.