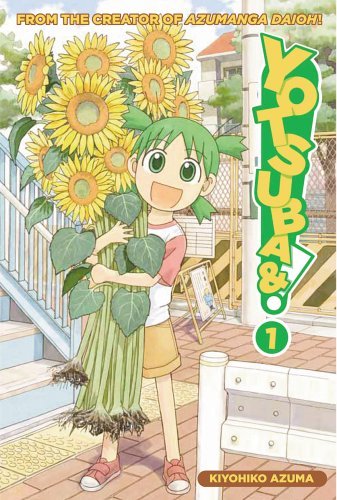 What? Me do manga? To be honest, I've never really been into manga that much. I did have my eye on Yotsuba&! though. I mean, it's by the same mangaka who did Azumanga Daioh, Kiyohiko Azuma, and we all know how awesome that show was! After getting a recommendation from Os in the forums, I decided to check it out.
I just got the manga today (like, a few hours ago), and I've only read the first chapter, but already it's looking really promising. Basically, the story is about Yotsuba and her dad moving into a new town. Yotsuba is a little girl who kind of looks like a green-haired Chiyo-chan with four spiky hair things instead of two. So far, she's proven to be kinda dumb, in a cute way. She doesn't know what a swing is, and she didn't think of her neighbors as her neighbors because her house is over there… way way over there (she was pointing to her old house!).
So far the gags have played off of Yotsuba's cute dumbness and naivety. I really liked the part where she was being walked home by her neighbor, and then suddenly realized that she could be a kidnapper! It's funny because I can just imagine that happening in real life to great comedic effect.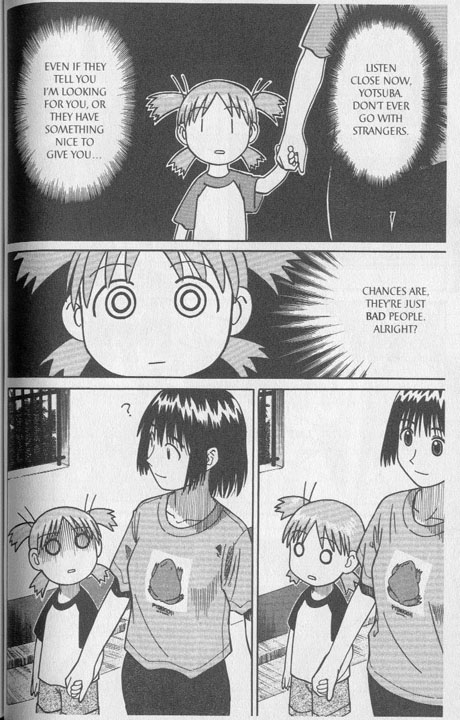 Ok, now I feel like one of those kids on Reading Rainbow, so I'll wrap this up. Overall, Yotsuba& is looking to be a pretty funny manga. I think there's 4 chapters so far right now, with 3 having been translated into English (officially). Given the success of the Azumanga anime and manga, I'm really surprised that Yotsubato hasn't been made into an anime yet.
It was $10 on Amazon.com for the first volume, which is kind of a lot in my opinion, but I'm still glad I took a chance on this one. Getting into manga in addition to anime is just what I need to break my bank. But don't take my word for it…
Check out the Yotsuba& manga at Amazon.com while helping me feed my addiction…