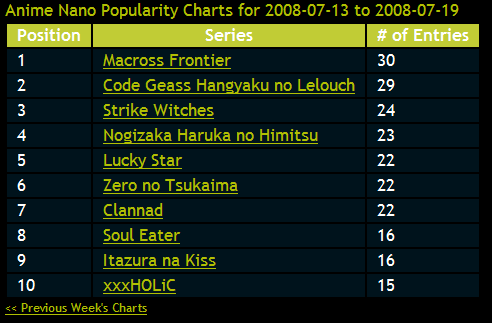 Since I have no time to watch the new season of anime, and since Anime Nano has a kick-ass charts feature that no one writes about, I figured I'd gauge the success of the new shows by their chart status. Or something.
Actually, for the latest week, it looks like only a few of the new Summer shows are even represented. If you don't count sequels. Strike Witches is apparently worthy because the girls don't wear pants. That's probably a cheap way of getting viewers, but whatever. Nogizaka Haruka no Himitsu is probably up there because it follows the same title template as Suzumiya Haruhi no Yuutsu.
Besides that, it looks like second (and third) seasons and continuations of past seasons' shows are much more popular. This confirms the beliefs of many that the Summer season just isn't that worthy.
Also, I saw a few episodes of that Akiba-chan on NicoNico. It sure is good for watching raw (I understood like, 80% of what was said) but it's also really predictable and stupid. In one episode, Akiba-chan steals one of the other girl's homework to copy it. In another, she tries to lose weight. I'd still watch it though, just to practice my raw watching skills, which are probably waning from non-use.
Just in case, I loaded that Nogizaka Haruka's Secret and the Mahou Tsukai Important Stuff anime onto my iPhone. Also, from last season, Library War! I probably won't be inclined to watch them any time soon, though. Sigh.