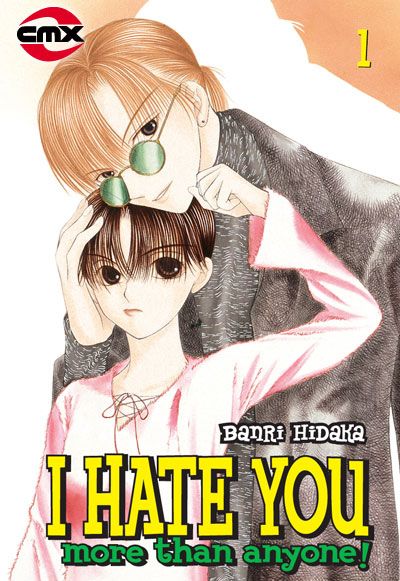 Theory: When someone in anime or manga says "I hate you more than anyone" (Sekai de Ichiban Daikirai!) they really mean "I'm a tsundere and I love you."
Book Blurb:
Kazuha Akiyoshi is the eldest of six children. Highly responsible and irresistibly cute, she is also something of a tomboy who never allows her softer side to show through –– until she meets Mizushima, the first guy to treat her like a girl.
Kazuha has her first real crush; will it be reciprocated? Then there's Sugimoto, an older guy who wants to be an important part of her life — but he's the one who Kazuha hates more than anyone!
Analysis:
I Hate You More Than Anyone (I'll just call it Seka-Kira from now on) is a pretty generic and predictable story of a girl who is figuring love stuff out. I say it's predictable, perhaps because it simply is, or maybe because I've read too much other manga.
Kazuha totally loves Mizushima, but does she really love him? When she figures out that she simply admires him, Sugimoto is there to rub it in. Sugimoto is constantly toying with Kazuha, saying he's in love with her and whatnot, and generally staying one step ahead of her at all times. He's really got kind of an unfair advantage, though, since Kazuha is only in high school and Sugimoto is considerably older (I think).
Kazuha does do the tsundere thing, especially in the first part of the manga, punching Sugimoto then feeling all funny when thinking about him. I think tsundere is becoming so much of a sterotypical character type that it's taking away a bit from the story.
Right now, the story is playing just as I figured it would. Hopefully there'll be some kind of twist thrown in there, with Kazuha eventually setting the pace of the relationship instead of Sugimoto. I doubt it'll happen, but that'd be cool if it did.
Character Designs and Art:
Seka-Kira is 100% shoujo. This can be good or bad, depending on what kind of art style you like. The cover for this book is absolutely horrendous. The art inside is not half bad. I don't know what they were thinking choosing this fugly art for the cover…
Kazuha is kind of cute, and at 5 foot 10 1/2 inches, taller than Risa from Love*Com! I guess Kazuha is fine with her height though, and isn't into dating short micro-men.
There are a lot of secondary characters, and they're all done pretty well. I'd complain about the shoujoness of the art, but that's the way it's supposed to look…
Conclusion:
I Hate You More Than Anyone! is a nice, though predictable high school romance story. I suppose it's okay for a high school girl to go after 20-something year old men since no one seems to be making a fuss about it in the manga… I'm hoping some twist will occur, but perhaps that's just wishful thinking. Overall, it's about average.
Many thanks to CMX Manga for sending me a review copy of I Hate You More Than Anyone! Volume 1!