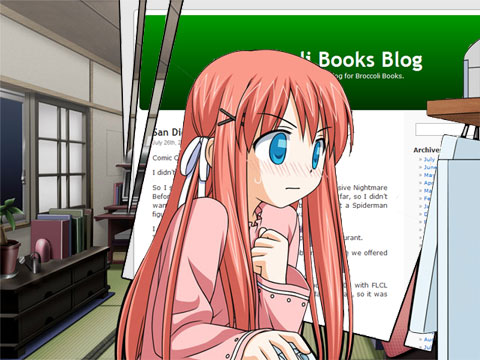 I've noticed that there's not really very many industry blogs in the anime/manga industry. I knew of a few select blogs, mostly from small publishers, but virtually none from anime companies…
Today I'll be checking out a few industry blogs and seeing how they can create a relationship between the customer and the publisher.
Broccoli Books Blog is up first. It's written mostly by Shizuki Yamashita, the Director of Operations at Broccoli Books. It shows how small the company is if the director's writing the blog posts.
Most of the posts are about the printing process and new titles. They also post about their appearances at cons. It's not the most interesting stuff to read, but it's nice to see some transparency in the company.
Bigger companies probably don't really want to communicate directly with their customers. But readers can totally comment to on the BB blog at any time. That's gotta be worth something. Oh, and this applies to all the blogs I'm writing about too, not just Broccoli's.
Vertical Blog is written by the director of marketing, Anne Ishii. What's funny about Vertical Blog is that it sometimes references its products, but half of the posts are just random links and stories. The good part is that these links are actually interesting. They mostly have to do with Asian culture/identity issues and whatnot.
I'm not sure how many readers the Vertical Blog has, but I'd wager that Ms. Ishii could write on a non-industry blog and have some success. Vertical Blog is sort of the anti-industry blog. It's written for a particular company, but doesn't simply pimp out the wares. It's so good, I've added it to my normal RSS feed reader. (The post about how awesome my To Terra Vol. 2 review had nothing to do with it… it does help that Anne Ishii is kind of cute, though.)
Del Rey had some kind of thing going with Active Anime where they blogged for SD Comic Con. I guess it doesn't really count as a blog since it was a temporary thing, but I thought the posts were interesting. They varied from new series announcements to posts about a guy's tie.
I think Del Rey should continue blogging. It seems like they enjoy it, and it's interesting to see an inside view of the industry. Perhaps they're too big of a company, though?
After the whole Nympet thing, Seven Seas' President, Jason DeAngelis, started a blog. Subjects range from the licensing process to con stuff. It's updated sparingly, so I dunno if I'd call it a blog, per se. There's still a lot of interesting stuff, though. And the articles that are written turn out to be pretty meaty.
Suggestion to DeAngelis: TALK ABOUT YURI!
Infinity Studios has a "staff blog," though I'm not sure it counts as an industry blog. Basically, it's just a guy named Sanshiro writing about random stuff in his life. Like buying an iPod or going to his friends' wedding… Unlike the Vertical Blog, these posts are just kind of boring and mundane.
I dunno, the blog just gives this feeling of being too personal while not being personal enough. Sorry Sanshiro, I don't think anyone wants to read about your mom's cat…
Analytical Conclusion: (Random Guesses)
So it seems that most of these industry blogs are being run by the smaller publishers. It makes sense. Smaller companies can be more agile and flexible while the bigger companies probably need to get all their lawyers to agree on the text of a post before submitting.
It's really nice to see the little guy reach out to the fans. Some industry blogs are better than this at others. I'd say the Vertical Blog is the best, simply due to good writing and somewhat random Asian culture posts.
I also found zero anime company blogs. Is that because manga publisher are more into the writing scene? Maybe anime companies should do vlogs then?
If I missed any industry blogs, lemme know and maybe I can do a follow up post!