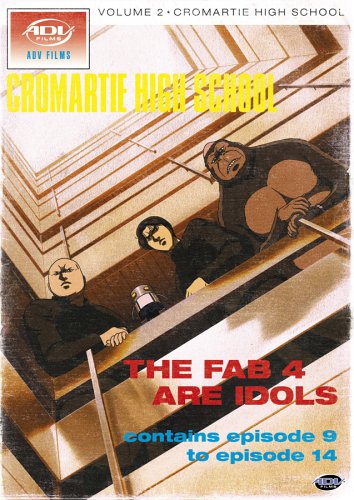 I couldn't stop watching the Cromartie High School DVDs after I started, so here's a quick review on the next DVD, entitled "Hey Dude." Just like that old live action cowboy show on Nickelodeon!
So in this volume, the guys do more random stuff. Like they meet Mechazawa's little brother, who isn't quite as invincible as his big bro. Then the guys decide to form a baseball team, but get lost in the woods. Luckily the gorilla leads them home. But it's not their gorilla!!! That was probably the best part of the DVD.
I felt like the humor in the second DVD was a bit weaker than the first. Maybe I just got used to the weirdness, though. Even the characters make reference to this, like when that one blond guy's head is being bitten by the horse, and everyone else is still super bored.
Specifically, the hand puppet scenes were kind of stupid (but not funny) and also the part where Mechazawa turned into a motorcycle was only slightly amusing. Let's see if it picks up in Volume 3…
I bought the DVDs seperately, but if you're gonna buy it, it would probably make more sense to just get the thinpack in one go.