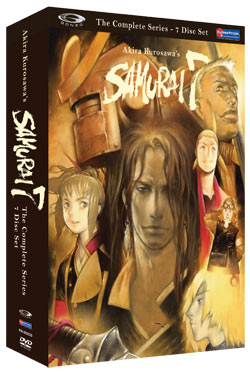 I've never watched the original Seven Samurai film by Akira Kurosawa, but I did watch the first episode of Samurai 7 a long time ago on fansub. Just recently I got the complete box set to review from Funimation. While I would've liked to see more ninjas, a samurai is fine too.
Story:
I'm not sure how closely the anime follows the original film, but I'm pretty sure this is an updated version of Seven Samurai. Like with mecha. A small village is being bullied around by some ex-samurai who have modified their bodies with cybernetic implants. I guess that after the war, they didn't have any work, so extorting villagers seemed like a good plan.
The villagers are sick of growing food just to have it taken away, so they make for the big city in hopes of hiring samurai to protect them from the bandits. They'll need seven samurai to protect the village. The only problem is convincing them to risk their lives for just food.
Analysis:
I only watched the first disc of 7 in the box set, so my analysis will be kinda limited. I'll update as I continue to watch the rest of the series.
Apparently, this anime cost a crapload to make. I think I read that each episode cost something like $30 million!? The animation certainly is good looking, with one caveat. CG!!! Seriously, do they need to make everything CG? The mecha I can understand, but a necklace? Grass? Does it really take more work to draw it? The CG is pointless and it makes the anime end up looking inconsistent. Years from now, people will shudder at how bad the animation looks, even for $30 million an episode.
As far as the actual anime goes, I think the pacing could be faster. The first two episodes feature very little in terms of excitement. There are some pretty cool battles later, but I wish the plot would hurry up already. At the end of the first DVD, the villagers are still in the city, and they only have 4 samurai! And only 2 are good! I just get the impression that this anime could have been something like 13 episodes instead of 26. The pacing definitely needs a bit of work. I guess we'll see how it goes in the next episodes.
I'm also not sure if I really buy into the whole steampunk mechanical samurai in the future type deal that they're trying to push. Did this really need to be set in the future? It feels like some kind of bizarro Star Wars. Whereas Star Wars had samurai ideals set in the future, this anime seems to be set in the future, but the samurai don't have cool light sabers or anything.
The Actual DVDs:
This box set is pretty sweet. The DVDs are all arranged in one of those folding compact holders for maximum space efficiency. There's a separate compartment that holds a bunch of mini artbooks: one for each volume of the anime.
One thing I noticed is that the DVDs featured 4 separate audio tracks. They had English and Japanese tracks, both with a Dolby 5.1 and stereo option. I don't have a 5.1 audio setup though, so I couldn't test it.
As far as DVD extras go, there were character profiles, a Japanese promo video, and a few other things (probably trailers and whatnot). There wasn't really anything special that I noticed. It'd be nice to see some kind of comparison documentary between the original and the anime remake. Perhaps it'll show up in the later DVDs.
Conclusion:
The Samurai 7 Box Set is a pretty slick package. The story itself hasn't gotten me totally convinced yet. I was impressed by the fight scenes, though. Hopefully the rest of the series will be faster paced. If they keep up the action, I think Samurai 7 could be a really good series.
Many Thanks to Funimation for sending me a review copy of the Samurai 7 Box Set!