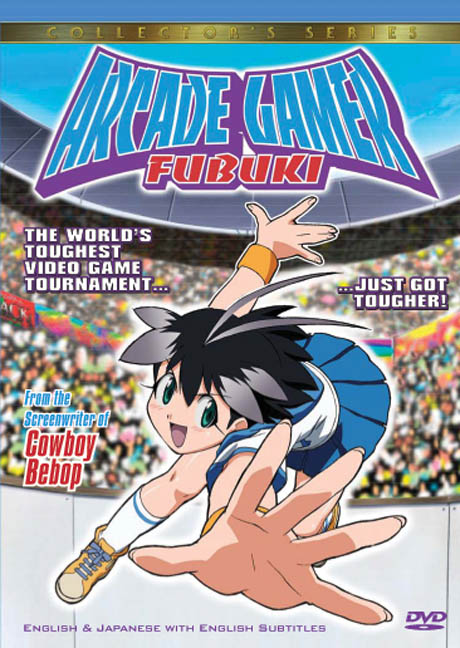 Arcade Gamer Fubuki is an anime that seems to have everything going for it. It combines all of my favorite things: anime, video games, and panties! Plus the story is adapted from a Yoshizaki Mine (the guy who created Keroro Gunso) manga! I knew that I needed to see this anime before I died!
Story:
Fubuki is a fairly average girl. She's not very athletic, and she's only decent at video games. She does have a secret weapon in the form of her "passion panties." When her panties are revealed, she gets super psyched and becomes a video game playing machine!
Fubuki was given the panties by some mysterious person. Um… do girls usually accept panties from strangers? She's supported by her best friend, Hanako, and some kid who likes to stalk her and take pictures of her panties… And some weird masked guy named Mr. Mystery.
The plot revolves around Fubuki entering the world BAG tournament, basically a video game championship. An evil organization bend on world domination called "Gulasic" ends up sabotaging the matches, though it's unclear how they intend to take over the world by doing so.
To be honest, the plot makes no sense, as Fubuki loses a match in the first episode, then finds out she can have a rematch in the next one. The third and fourth episodes feature the BAG world tournament and a showdown between Fubuki, Mr. Mystery, and the head of Gulasic, who happens to be her father! NOOOOOO!!!
Analysis:
I really wish that I could say that I enjoyed Arcade Gamer Fubuki. It really should be good, but for some reason, it isn't. I think it has to do with the fact that the anime doesn't know what it wants to be. If it was supposed to be a comedy, it should've included more jokes and left out the drama at the end. If it was supposed to be dramatic, well, I think it would've been doomed from the start.
This isn't to say that there aren't funny parts. There are a few. But for a 140 minute feature, there are not nearly enough. I can usually enjoy almost any anime. This one actually had me looking at the clock to see when it would be over.
The character designs were actually awesome. I really liked the designs for just about every character besides Mr. Mystery. The girls have that trademark eyelash thing that Yoshizaki-sensei uses a lot. The animation was also top notch. This is an OVA, after all. There were a few parts where they tried integrating actual video game graphics that didn't quite work, but it was still pretty cool.
DVD and Extras:
The DVD includes quite a few extra features. There's a couple of trailers for the anime, a textless opening animation, and a few features with the Japanese voice actor for Fubuki, Nogawa Sakura. Basically she tries to act cute by doing athletic feats but ends up looking dumb. I guess it could be considered moe, but I fast forwarded a ton of it and just ended up skipping it.
I watched the whole anime in Japanese language with English subtitles. One thing I noticed while watching were the subtitles. One in particular caught my attention. At one point, the random stalker kid walks into Fubuki's house, cleans some broken glass, offers some advice and leaves. After he leaves, Fubuki says "ima dareka itta?" And the translation is "was somebody just here?" It would make more sense to me (though I'm not sure that I'm right) for it to be translated "who was that just now?"
Conclusion:
Arcade Gamer Fubuki is just another example of why video games and movies don't mix. I guess I'd rather be playing video games than watching a video of someone play video games. While the art and animation is really good, the story is just too dull.
Many thanks to Central Park Media for providing me with a review copy of Arcade Gamer Fubuki.