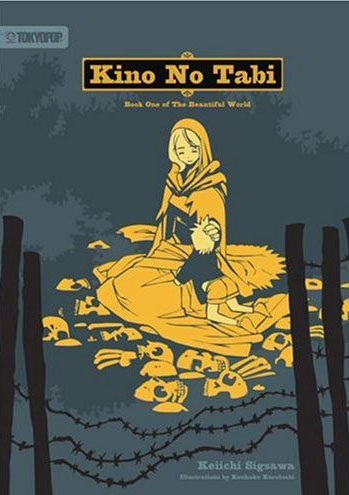 I had first heard of Kino no Tabi (Kino's Journey) when it was released as an anime in 2003. I had seen one episode, but shortly afterwards, the anime got licensed, so I sorta forgot about it. Fast forward to October 2006, and the Kino no Tabi light novel is released in the US! I'm not a big novel reader, but stick the word "light" in the front and I'm sold!
Kino is a traveler. Kino is also an awesome reverse trap. That's right, Kino is a girl. She travels the world, never stopping anywhere for more than three days. She was once told by another traveler that "you can learn almost everything about most places in that length of time."
Kino is not, however, alone. She's accompanied by a smart aleck sentient motorcycle by the name of "Hermes." Hermes is a lot like KITT from Knight Rider. When I was reading the light novel, I kept on thinking of William Daniels' voice when reading Hermes' lines. He (at least, I think Hermes is a he…) acts as Kino's sidekick, as well as serving as a rational voice when Kino gets crazy ideas.
Together, Kino and Hermes discover the beauty of the world. The beauty, apparently, is that the world is ugly. All of the imperfections and conflicts in the world make Kino want to see even more. During her adventures, she is almost killed by her parents (which starts her off in her journey), visits ruined cities, and even fights in a colosseum tournament! Kino is an expert sharpshooter, so she's usually safe, even when it seems she's in over her head.
I haven't really read any "light novels" before, so I didn't know what to expect when reading Kino no Tabi. From what I had read about light novels, they seemed to be targeted towards teenagers, with simple stories and occasional manga-style drawings here and there. For the most part, that's what Kino no Tabi is like. Each chapter is self contained, and most last around 30 pages. There are a few pictures, but they're all in black and white, and no fanservice… Boo!
For the most part, I found the light novel pretty easy to read. Apparently the Japanese version of the novel had the chapters mixed around in chronological order. Tokyopop decided to present them in the correct order for the US release. I guess either way works, though I would've preferred as close of a direct translation as possible. I finished the whole book in two days, and I doubt anyone would have trouble getting through it in one day if they wanted to.
I'm the kind of guy who actually pays more attention to the words in manga than the pictures, so reading light novels would seem more natural to me. At least, the cost per word ratio totally kicks manga's ass! If you're looking to get into light novels (as they're apparently all the rage in Japan), I'd say that Kino no Tabi is a safe bet. Of course, I haven't read any other light novels, so take my suggestion with a pinch of salt!
Many thanks to Tokyopop for supplying me with the review copy of Kino no Tabi: Book One Of The Beautiful World.