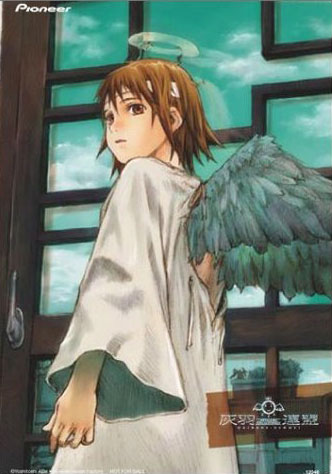 So my huge ass anime order from RightStuf came in a few days ago. I decided to watch Haibane Renmei first, since it seemed the most interesting.
Story:
Rakka is the newest of the Haibane, a mysterious race of angel-like beings. In this world, Haibane are born from giant alien-looking pods. Rakka is greeted by the other Haibane, given a name, and grows her wings (which seems more painful than necessary).
She starts getting accustomed to the new world, but for everything she learns, there are always more questions that come up. Haibane are treated like second class citizens. They can only receive used things from humans. They can't handle money. They have to sit in the back of the bus. Okay, I made that last one up… Will Rakka eventually uncover the mystery behind this new world?
Analysis:
Haibane Renmei has been recommended strongly by a lot of people, which is one of the reasons I bought it. This means that going into it, I had some pretty high expectations. Luckily, those expectations were fulfilled pretty well.
This anime is part slice of life, part mystery. As much as I'd like to know what the heck is outside of the walls, and what's going on with the Haibane, the idyllic setting makes me want to see nothing change at all. Of course, the underlying calm is probably a setup for some crazy Twilight Zone twist! I mean, this anime is from the person who did Serial Experiments Lain, after all…
The slice of life parts really are nice, though. I guess that since it's not your typical slice of life (like Japanese school kid or whatever), it's more interesting that way. The characters all have their own personalities, and right now the anime is doing a sort of "character of the week" thing. I'm sure in the next volume things will get more interesting.
The DVD:
I was a little disappointed with the video quality on the DVD. The picture seemed blurry almost all the time. This anime came out in 2002, so there really shouldn't be any excuse for this.
There are two audio language tracks and a few different subtitle tracks. I listened to this anime in Japanese with English subtitles. Just for fun, I switched to the English track for a few minutes. It wasn't bad, but I'll always take Japanese over English any day.
There were a few DVD extras, including a credit-less intro, the original Japanese intro, and the next episode previews (which don't show up in the episodes themselves). The gallery seemed pretty interesting. There wasn't really anything super special, but it's better than nothing.
Conclusion:
It seems like the first volume of Haibane Renmei is just a setup volume for the rest of the anime. Either that, or the whole series is like this, and the mystery never gets resolved…
Luckily, I bought the whole series in one shot, so I don't have to worry about waiting for more episodes! For now, Haibane Renmei is looking really good. I'll write up another review once I've finished volume 2.